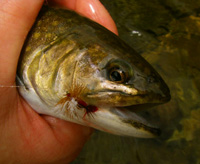 "What are they hittin' on?" That's what fly fishers want to know. We get several emails every week asking us for our fly recommendations.
Now you can use the same flies that the guides at R&R Fly Fishing are using. Each month we'll send you two or three flies from a pattern we're using in the Smokies at that time of year. These flies are the ones we rely on every day to help our customers catch trout, so you know we believe in them.
While the right fly makes a difference, a fly fisher always catches more trout when they know how to fish a fly effectively. We'll also send you Advice from the Guides that will ensure you're using the fly the way it's intended. We'll tell you what kinds of water to cast the fly along with the best time of day, and the best leader and tippet. We'll also include a materials list and directions complete with photos on how we tie the fly.
$50 for a 12 month subscription, shipping included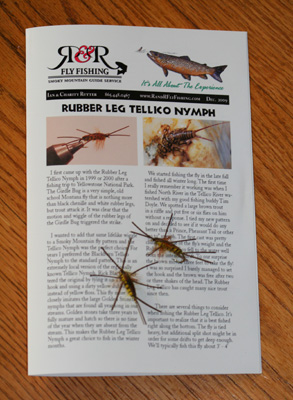 We'll begin our offering this December with Ian's Rubber Leg Tellico Nymph. This fly is excellent for winter fishing in the Smoky Mountain region. It imitates a Golden Stonefly nymph. They take several years to mature and are present in our freestone streams year round.