While we don't expect to get much sympathy from anybody, we don't get to fish as much or as often as many of you think. We had a pretty ambitious holiday travel schedule to be with family and even left the country for a little more than a week. Since we've been back we've hit the water a number of times. We've caught some fish but it never really felt like things were in synch.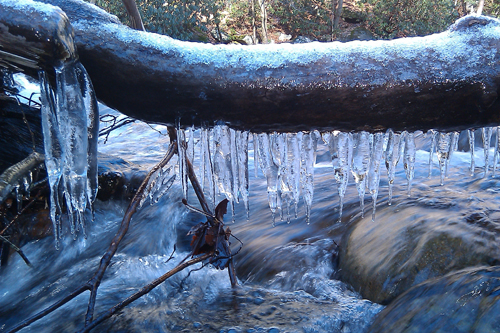 Icicles at Tremont just a few days ago
Even as it has been an exceptionally mild winter across most of the country, even here in East Tennessee, it's still winter in the Smoky Mountains. It's easy to forget that the Smokies have their own climate, but all it takes is a few times of leaving Townsend in a light jacket and finding snow and ice about 20 minutes away.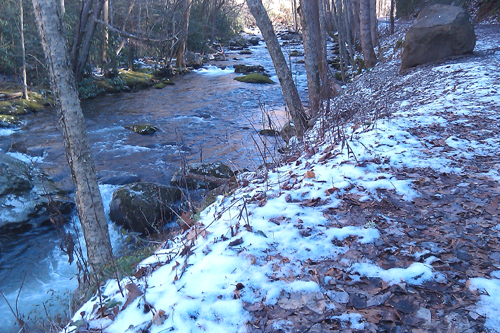 Snow along Little River last weekend
The tailwater situation hasn't been great either. TVA has started to ease up on generation, but this isn't a highly predictable thing and we haven't made it over to the Holston or Clinch when the water was right. It's almost as if TVA knows our schedule and drops river levels when we're committed to other things and blow it out when we're ready to go.
Yesterday I found a few free hours and decided to head up the river just to get out of the house. I'll often coordinate with my neighbor and fishing buddy Doug Sanders several days in advance, but found him in the same spot doing the same thing. We had modest expectations but had to get outside.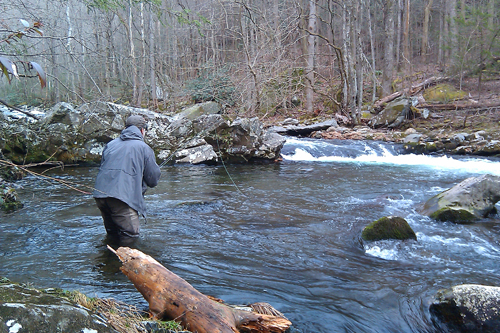 The water temperature was 41 degrees F so we were braced for some deep nymphing. Doug already had his rod rigged with a couple of nymphs. I had one rod with a streamer and a second with a dry fly. I grabbed the dry fly rod and had every intention of clipping off and re-tying with a pair of nymphs. Doug caught a fish almost right off the bat and handed off to me to make a few drifts with the nymphs.
Of course I wasn't going to sit and tie knots while I could fish, so I traded off with Doug and rationalized the whole thing by deciding that we'd have a dry fly already rigged in the off chance it might work.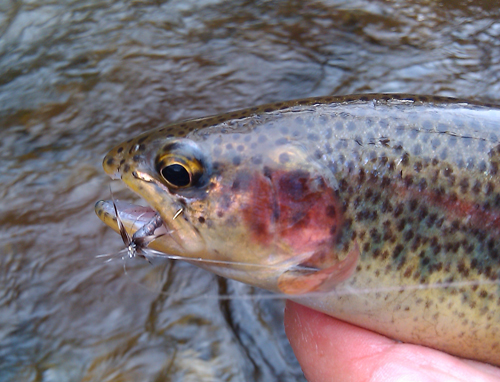 As it turns out I made a few test drifts with the dry fly on the second run of water and a fish rose to it! We spent the afternoon picking and choosing, but by the end of the day we had actually caught a couple more fish on the dry fly than we did on the nymphs.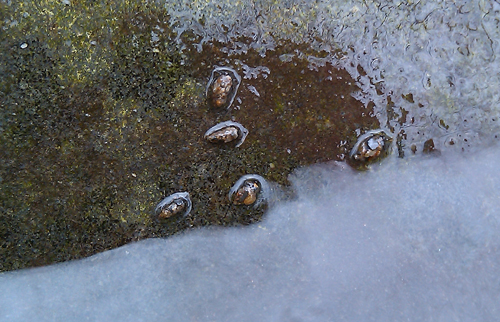 We saw a number of cased caddis that had migrated to the water's edge, perhaps in preparation of hatching. This might explain the good dry fly action, but we only saw a few caddis and a couple of tiny winter stoneflies.
We're glad to see some good fishing in the Smokies because the tailwater situation is still pretty grim. It looks like there could be a break on the Clinch at any time, but we're not holding our breath. Right now there are very short windows of fishable water near Norris Dam in the afternoon, but it's not long. We'll keep you posted.