The Holston River tailwater below Cherokee Dam is one of Tennessee's premier fly fishing destinations that is still a secret of sorts. The river has little notoriety among fly fishers because few are aware of it. Rainbow and brown trout are common and smallmouth bass and redeyes, sometimes called rock bass, are also present and become dominant as you go further downstream. This article will outline the best methods for fly fishers to wade and float the river plus outlines hatches they can expect to see.
Wading the Holston River
Fly fishers aren't as aware of the Holston River as they are the South Holston, Watauga, Clinch, and Hiwassee tailwaters because of access issues. Public access is extremely limited on this river, which in turn limits the number of anglers you'll see. The best access point for waders is at the Nance's Ferry boat ramp. Shallow riffles are wadeable for a good way upstream. This is essentially a winter and spring trout fishing spot though. Water temperatures in the summer are generally too warm for trout, but fishing for smallmouth bass and carp can be excellent.
The other public access for wading anglers is at Cherokee Dam. This section of the river is a far more consistent trout fishery than the Nance's Ferry area due to much cooler water temperatures. Fly fishers will want to walk downstream to productive shoals for the best fishing on this section of the river. Indian Cave is a public access point a little more than half way between the dam and Nance's Ferry but there is very little water for the fly fisher without a boat. Unfortunately, other access points to the river require landowner permission.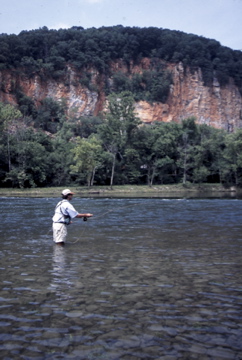 The Holston is an extremely large river, often 100 yards or more wide  
Floating the Holston River
Floating the river allows greater access, but again, access is still very limited. The public boat ramps on the river are found at Cherokee Dam, Indian Cave, and Nance's Ferry. Floating the Holston tailwater presents more obstacles than other big trout rivers in Tennessee. However, these aren't the conventional obstacles like boulders and white water that might come to mind. Rather than dangerous obstacles, the river features several long, slow stretches that can exhaust those rowing drift boats. For that reason, the float from Cherokee Dam to Indian Cave can be a long one. Private river accesses are a necessity to make this section of the river an enjoyable float.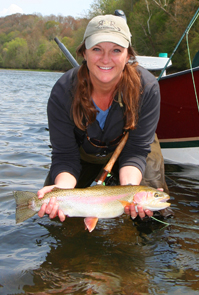 Most trout are in the range of 12″, but a few over 20″ are caught every season 
The float from Indian Cave to Nance's Ferry is the most workable for most anglers. There is one flat stretch of water at least 2 miles long that can take its toll on rowers. Small motors will make the task easier on any stretch of the river, but be sure your boat has the appropriate registration. TWRA game officials patrol the river and regularly write citations to boats with trolling motors but no numbers. Fly fishers who float the river may find a good schedule that gives them a rapid rise in water levels at the end of the day and have an easy coast to Indian Cave or Nance's Ferry.
The river has a few small rapids and numerous rocks and ledges. There is nothing dangerous for an experienced oarsman, but there are several spots that have the potential to scar a boat with a novice at the oars.
Water Levels & Generation
Like other tailwaters, it's imperative that fly fishers are aware of generation schedules. Cherokee Dam regularly releases large quantities of water and it's up to the angler to know when that will happen. Typical flows on the river when generators aren't running is about 300 cubic feet per second. Periods of minimum flow, most common in late winter and spring, feature a "pulse" schedule where the dam will release water every 5 hours. This will not impact anglers fishing at Nance's Ferry but will certainly cause a dramatic rise of the river in the first 2 or 3 miles downstream of the dam.
There is only water water level worth fishing, and that's the minimum flow. Fishing isn't much at higher levels and not usually worth the effort. The pulse of high water near the dam will usually put fishing off for 45 minutes to an hour.
Cherokee Dam can generate in excess of 16,000 cfs and this will certainly have an effect on the river downstream. When the schedule calls for "2 or more generators" expect the water to rise in about 3-4 hours at Indian Cave and approximately 5 hours at Nance's Ferry. These times are variable depending on just how much water is generated which generally isn't known.
Hatches
There are a few basic hatches for fly fishers to imitate on the Holston River. Midges, caddis, craneflies, and sulphur mayflies are the most common insects fly fishers will see on the river. Midges are most important in the winter months and early spring. Small larva and pupa patterns #18-20 will consistently fool trout. Dry flies should be no larger than a #20 and aren't usually as consistent at fooling fish. As the year progresses trout will still feed on midges, but larger insects will often get their attention. Craneflies often show up in early spring and will get the trout rising. A #16-18 sulphur colored cranefly pattern dry fly will do well.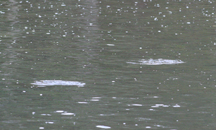 There are plenty of bugs to keep trout rising on the Holston
Caddis are the main event for fly fishers on the Holston. The hatch starts slowly in late March and builds through April, usually peaking in late April or early May. Caddis continue to be present into the summer and a few even continue into the fall. The best dry fly patterns are tan or gray. Elk Caddis and X-Caddis in #16-18 are best. Flies are smaller earlier in the year and larger species hatch as the season progresses.
Sulphurs often hatch in May and June. They may hatch mid-day but are often more prevalent in the evening. Fish #14-18 Comparaduns and Parachutes. Again, several species hatch here so an assortment of sizes is required to have the appropriate one on any given day.
Smallmouth Bass
The Holston River tailwater is an extremely prolific smallmouth bass fishery and there are far more miles of productive bass water than trout water. In the summer months the best bass fishing is from Indian Cave all the way to the confluence of the French Broad at Knoxville. A variety of flies will consistently fool bass but poppers are a favorite with fly fishers.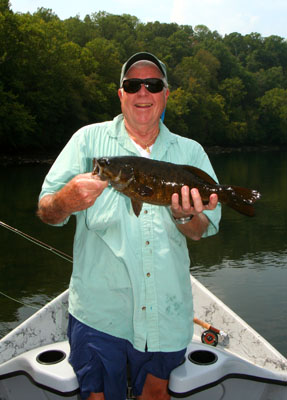 This nice smallie ate a Sneaky Pete
Poppers that chug and pop will call bass out from under boulders and snags. Strikes are often explosive and that adds to the excitement. Sneaky Petes are a type of popper that isn't particularly noisy, but dives underwater then bobs back to the surface. These are valuable when the fish seem to spook off of conventional poppers.
Sculpin, crayfish, and minnow patterns are extremely effective, particularly in swifter currents. It's extremely important for these flies to go deep and we often use sink tip fly lines to be sure the get deep and stay deep.