What do you do when you're a busy fly fishing guide with a day off in the summer? Head to water you haven't fished in a long time. After several consecutive days of guiding Charity had a couple of side projects to tend to so I headed off into the backcountry alone.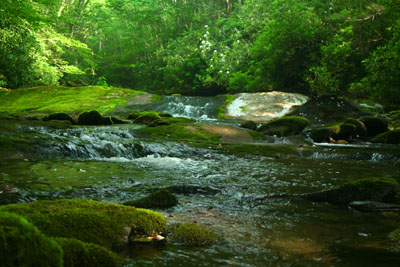 Beautiful water full of trout and devoid of anglers
I got to the trailhead at Elkmont by 7:30 AM and started for the upper reaches of Fish Camp Prong. I used to fish Fish Camp 3 or 4 times every summer, but that was back when the upper sections were closed to fishing because of the brook trout that live there. The opening of park brook trout streams coincided closely with our daugher Willow's birth. I've fished a number of them, but not as many as I would like.
It's about 7 miles from the trailhead to the start of the brook trout water. Charity and I used to participated in a quarterly water sampling to monitor water quality and acid rain, so I've seen some of this water many times. In fact, it's probably the water I know best, yet have never fished.
I paused about 5 miles along the way, strung up my 8′ 3 weight Scott G Series, and cast into some beautiful water that I remember fishing many times in previous years. Several nice rainbows came to the fly without questioning it. All were pretty nice fish and one even pulled some line off my reel.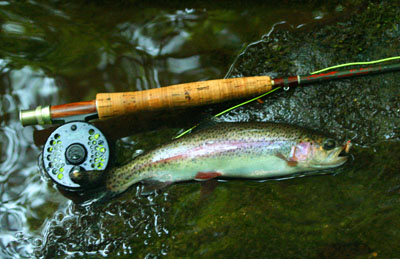 Not a bad way to start the day.
Remembering the brook trout I meant to fish for, I reeled up and continued walking. I started fishing again just downstream of campsite #23 and immediately caught a couple of brookies. Rainbows were in the mix, with another real nice one at the mouth of Goshen Prong. I spent a good deal of time traveling up and down Goshen Prong, Silers Creek, and Fish Camp Prong. All fished well, but Fish Camp was certainly the best of the three. It's bigger water and had more inviting places to anticipate a good fish. I have no idea how many trout I caught over the course of the day, but most brookies were in the 6″ range. I had one about 9″, but the camera was deep in my pack so I didn't get a photo. All were colorful and aggressive.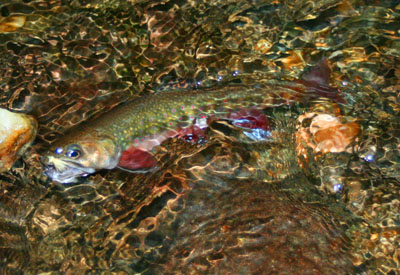 I had the camera ready for this one.
By the way, the water was plenty cold but pretty low. However, the ground was quite moist and mushrooms were sprouting up all over the place so it was pretty evident that rain has been falling at that elevation. In fact, right now I can see a storm over Thunderhead Mountain. It's been raining with some regularity in the mountains, but most of the rain is quite localized and doesn't do very much for water levels.