We're just getting over a bout with the cold here in the Rutter household. Our daughter Willow picked it up at a birthday party a couple of weeks ago, Charity succumbed a few days later, and I held on until the bitter end when I got it. We all seem to have turned the corner and are looking forward to getting out of the house again.
We've had some snow in the Smokies; 7″ at Newfound Gap, but little to nothing as you get down to Gatlinburg and Townsend. This came after a pretty good thaw when we got some decent fishing in before our descent into sickness.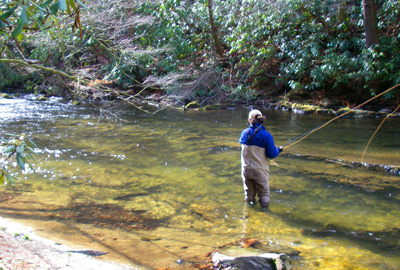 Typical of conditions we've fished – pretty but cold
We've fished Little River and Abrams Creek in the past couple of weeks. We don't fish Abrams Creek that much during the fishing season because traffic can be so bad in Cades Cove, so we try to get some time in during the winter when the drive to the creek is pretty casual with nothing but clear sailing on the loop road. Abrams is usually a bit warmer in the winter too, so we tend to head that way on the cold days. There's no secret fly; a #16 Beadhead Pheasant Tail Nymph or Hare's Ear Nymph will get you plenty of action if you're doing everything right. You might even be able to pull a fish up to the surface on a #16-18 Elk Hair Caddis.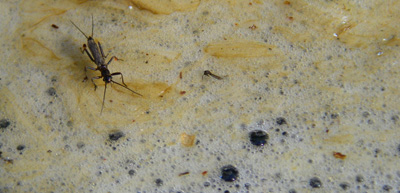 Little Winter Stoneflies are among the insects we're seeing on the stream.
One of the biggest effects of the drought this past season has been a number of beaver dams. We've had a population of beavers in the Smokies for years, but it's rare to see dams. I can only remember ever seeing one and that was on North River in the Cherokee National Forest. A pretty stout one turned up on Little River over the summer at the tail of the pool some local anglers refer to as the "April Pool."
There's also a pretty good beaver dam on the Oconaluftee that's flooded a good section of forest. The most beaver activity we've seen has been on Abrams Creek, with several dams constructed up and down the creek. The spring creek section of the stream above the trailhead has always been difficult to fish, but it almost impossible now as the beavers have created one long, still pool after another. To be fair, it's tough on the fly fisher but perfect for the fish.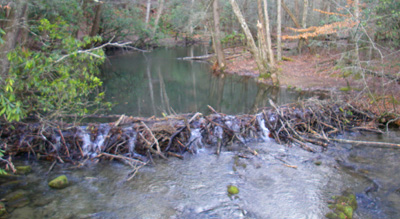 One of several beaver dams on Abrams Creek.
Water levels in the Smokies are really good. We've heard a few comments about low water that have left us scratching our heads. All we can figure is that people are still referring to last summer and fall's record low water levels. Right now the rivers and streams are well with normal levels and there's plenty of rain (or snow) in the extended forecast.