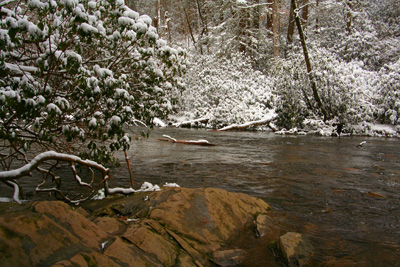 And it was 70 degrees 2 days earlier…..
Fly fishing in the Smoky Mountains has gotten off to a great start this spring. We've been doing some guiding but our schedules don't really kick in until next week so we've been spending as much time as possible fishing for ourselves. This last weekend saw a brief return to winter with a pretty snowfall in the mountains as well as other portions of East Tennessee. It put the fishing off a bit and things are still recovering as snow melt is chilling the streams in spite of 60 degree weather.
Charity helped to teach a fly fishing school last weekend in North Carolina. The school was held at the Lake Logan Retreat Center just outside of Canton, NC. It's a beautiful property in close proximity to a trout stream with delayed harvest regulations, a perfect place to teach beginners the finer points of the sport. There's also a spring fed pond on the property that's been stocked with trout. Charity has been here before working as a volunteer for Casting For Recovery weekends.
She remembered stories of several monsters in the pond that were occasionally seen but never caught. The topic came up again this weekend and Charity's curiosity got the better of her. After an afternoon session of instruction Charity couldn't help but check out the pond to see if she couldn't spot one of the fabled beasts that were in the pond. No sooner had she gotten to the pond than she saw a BIG fish cruising and immediately cast to it.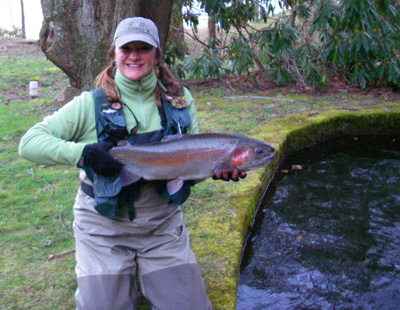 Maybe next time she'll catch a big one
Our fishing buddy and fellow guide Tim Doyle has always said, "If you really want to know how big the fish get somewhere, turn Charity loose on 'em."
I'm all for catching big fish, but c'mon! Don't set the bar so high!
I went up Little River yesterday to see how things were coming. The chilly water seemed to keep the fish down a bit but there were still some risers, just not so many as I had hoped for. On the plus side, the hatch was as good as I've seen this season. Quill Gordons, Blue Quills, Brown Stoneflies, and a few caddis were all on the water. I expect that the fishing should be phenomenal next week as the weather looks like it should remain mild.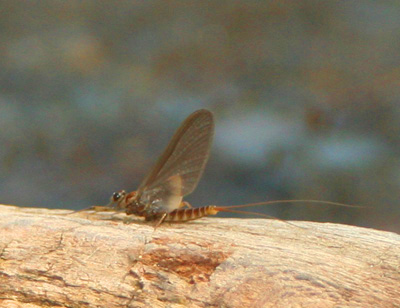 This great fishing brought to you by….
I caught several nice fish over the afternoon, all on dry flies. All on a #12 Haystack if anyone's keeping track. I had the camera slung over my shoulder all afternoon and thought about putting it back in the car when I was reminded just why you keep a camera handy. No, I didn't catch anything even remotely as large as the fish Charity got this weekend, but I did get a few rare wildlife shots.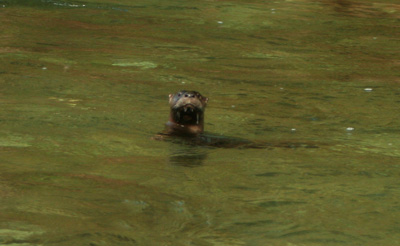 Some fishermen really hate otters, but we think they're pretty cool. Besides, none of the fisheries population studies show any effects on the trout population since they were re-introduced about 15 years ago. They can be pretty hard on heavily stocked creeks, but the wild fish don't seem to be affected. Sculpins, dace, and crayfish are the largest part of their diet which only makes sense since they're far easier for them to catch than a trout. In fact, the trout continued rising while the otter cruised through the run and never seemed threatened.