After yesterday's scattered snow showers and hard freeze last night, temperatures slowly grew milder today. I took Zeke Foard and his grandson Joshua out for a day of fishing. It was Josh's first experience fly fishing and Zeke and excited to see him catch his first trout.
We started out fishing some beadheads and covering some technical information on the best way to achieve a good drift. It wasn't too long before Josh hooked and landed a decent rainbow.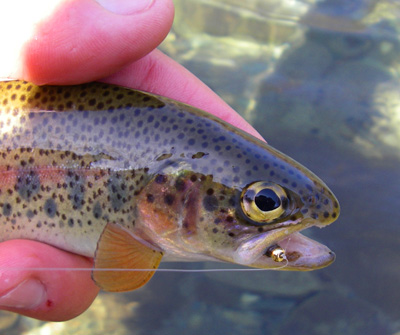 First rainbow trout on fly!
By 12:00 we were beginning to see some mayflies so I suggested we find a pleasant place to eat lunch on the river as the hatch progressed. It was the best hatch I've seen this season and I would guess that most of the fish in the pool we fished were rising.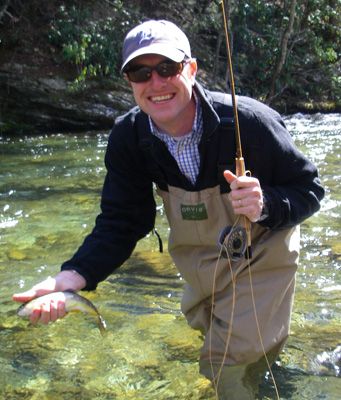 Josh's first brown trout
After Josh hooked and landed several fish Zeke settled in and got serious about fishing. Josh and I moved downstream and picked off a couple more fish working our way back to Zeke. He caught three while we were gone. Quill Gordons accounted for most of the rising trout we saw today, but there were also some Blue Quills, caddis, and stoneflies as well.