Charity here…
Let me start by saying Thursday was an excellent day for fly fishing in the Smokies!
I had the pleasure of teaching two enthusiastic kids how to cast a fly rod and then put their skills to work on the river. Daniel, 12 & Darcy 11 are on spring break and visiting their Grandmother, Julie Tallman, who is a client and friend of ours.
We started the day in a field near Elkmont campground and covered all the basics from how to hold the rod, make a cast, side arm cast, roll cast and just what to do when the fish eats the fly. They did great and were quick studies. By 11:15 we were in the water.
Darcy was first up. I tied on the Haystack she had tied the night before with her Grandma. We made several good drifts, but not eats. So I added a dropper with a small Bead Head Pheasant Tail. A few more casts and the show was on! Darcy hooked a pretty little rainbow that ran all over and jumped a few times, throwing the hook. A few more drifts and another came to the surface to eat her dry fly – it was a quick eat and tough to get a hook set for a new angler. It was really exciting and fun for both of us.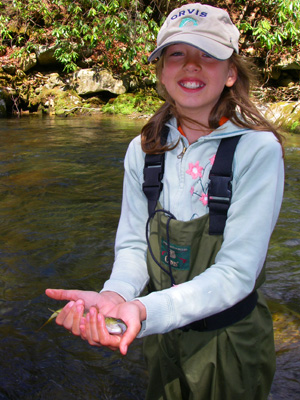 Then it was Daniel's turn. We went through the same steps as I did with Darcy by tying on a nymph dropper to his self tied fly as well. Daniel was fishing a little faster water, so I put on a heavier nymph, a Prince Nymph. A few good drifts and as I was looking upstream for the next drift, Daniel shouted and he had a beautiful rainbow trout on the line. We landed our first fish of the day – the first of many I might add.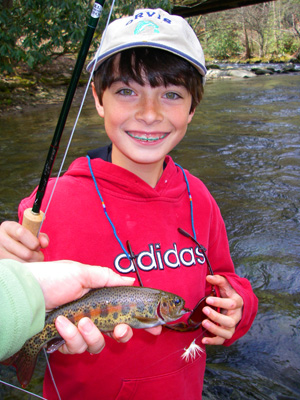 After lunch we headed upstream for some excellent dry fly fishing. There were lots of bugs and some happy fish. Daniel and Darcy became very attentive anglers and quickly understood how to get the drift and where to put the fly on the water – they each caught rainbow and brown trout in Little River.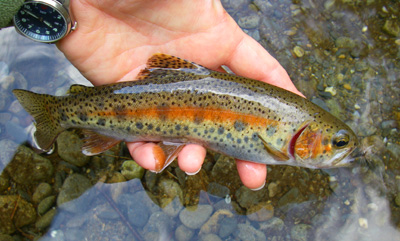 Another nice wild trout brought to hand
Our day ended with huge smiles and I got some great hugs from the kids. Little sister Lydia, 7, was along also and we're planning to get her on the river next time!