We're having some incredible weather in East Tennessee right now and the fly fishing is superb! Water levels in the Smokies are great. You'll do best fishing nymphs on the larger streams like Little River and Abrams Creek right now, but dry fly fishing is excellent on the medium to small streams. Wet wading is tolerable, but you'll still be more comfortable in your waders for now.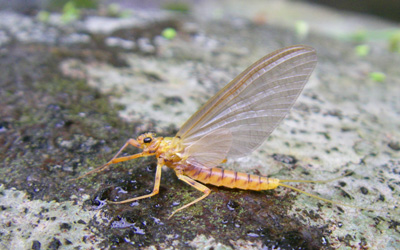 Watch for the best mayfly hatches and egg laying flights of stoneflies just before dark. Action can be sparse some evenings and incredible on others.
Tailwater fishing is great right now. Generation schedules are perfect for wading and bug activity is at a maximum. The Clinch is fishing pretty good with nymphs with sporadic late day action on sulphurs. The caddis hatch on the Holston is keeping fish looking up. Some days are certainly better than others, but even slow days are good right now.
Water temperatures have even warmed up to the point where smallmouth bass are getting active as well. I saw several moving about while floating the Holston and we'll be spending more time chasing them as the season progresses.