We haven't had much of a chance to post a report because we've been on the water so much. Fly Fishing in East Tennessee and the Smoky Mountains is superb any where you turn right now. We've been on just about any kind of water you'd want to fish this past week and it's all fished great! We've been in the backcountry for brook trout, fished road side streams for rainbows and browns, floated for trout, and even floated for smallmouth bass. In spite of what could be described as challenging weather on a few day the fishing has been excellent on all occasions.
The Smokies
We've hit that time frame when it's finally warmed up enough to find consistent fishing in the higher elevations. Fly fishing for brook trout has hit its stride and will continue into October. You have to work to get on this water and the fish are generally smaller than other streams where you can step from your tailgate to the stream, but the fast action and solitude are worth it. You'll probably want waders right now but it won't be long before you can wet wade with comfort.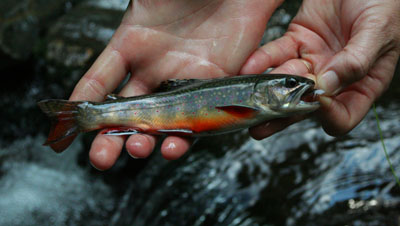 Things are really happening on the large streams as well. We've been into fish all day long. Some days are better than others on dry flies, but you can always get some action on a beadhead nymph. We're seeing some quality fish on Little River.
Tailwaters
All we can say about the tailwater fishing we've seen in the past few weeks is "WOW!!" Excellent hatches coupled with some nice fish have made for a superb spring season. We've been floating the Holston more than anything but we're also hearing some good reports from the Clinch and Hiwassee too.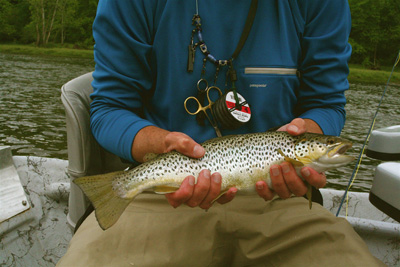 Chad Plumley caught this beautiful brown trout on a #18 Caddis pattern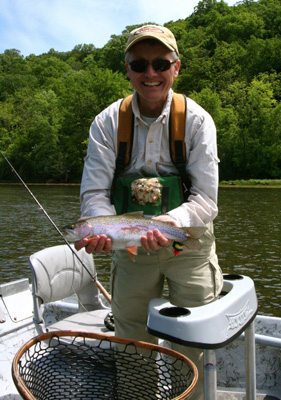 John Switow caught this beautiful rainbow from about 12″ of water on a #18 Caddis dry fly
You can probably tell from the photos that we're catching some tremendous fish from the drift boat. The reels have been singing and we've even gotten an education as to just why we put backing on our reel. The best part has been that almost all of our fish have come on small dry flies. There's just nothing like hooking a big trout on a small dry fly.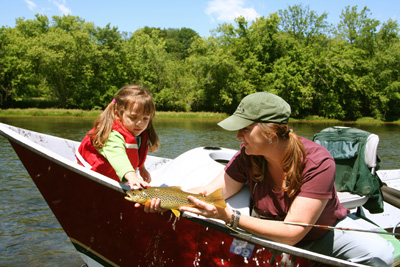 We've managed to sneak in a family float for ourselves too!
Don't Forget the Smallmouth Bass!
In spite of the fact that the trout fishing is as good as we've seen it, we're still sweaty to fly fish for smallmouth bass. I went down the Holston River last week with my good friend Rob Fightmaster. It was the first time we've ever fished that section of the river. We spent most of the day fishing poppers. The best action came in the afternoon but we expect this to only get better as the weather get warmer. There was one point when I think we boated three bass with about five casts. We even got a few trout even though we were miles downstream of "trout"water. There were a few huge bluegills too. The average fish was about 12" long and powerful. There were a few larger than that, but we were both so thrilled to be on fish that we were having too good a time to pay too much attention.