The National Park Service has just changed the fishing regulations so that Sams Creek is now open for fishing. This stream has been closed since the 1970's to protect native brook trout. A restoration was conducted by the park service along with volunteers from Trout Unlimited. Biologists at Great Smoky Mountains National Park now say that the population of brook trout in the stream is viable for fishing.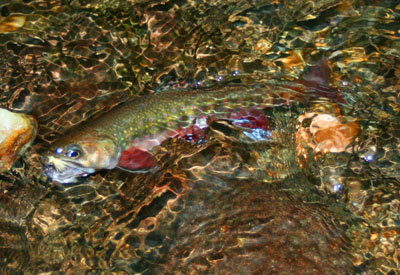 Charity and I are particularly gratified by this development. About five years ago we spent 3 days camping the backcountry with park fisheries biologists in the upper headwaters of Little River. We backpacked about 165 brook trout about 8 miles down the trail to be used for the Sams Creek restoration.
We carried 5 gallon containers of water fitted to an external frame backpack. The containers were equipped with battery powered bubblers to oxygenate the water and we'd stop every 40 minutes or so to refresh the container with fresh, cold water (and catch our breath).
Sams Creek is a tributary of Thunderhead Prong, one of the two forks of the Middle Prong of Little River. You can reach it by driving to the end of Tremont Road and following the path up Thunderhead Prong, the right fork of the stream at the trailhead. You will need to hike a pretty good way and the path up Sams Creek is pretty discreet.