Now that school has started back up there's a bit of a lull in the guiding. That's usually the way it goes, busy through spring and summer, a lull in mid-August, the rush of Labor Day weekend, then another lull as college football gets going strong in September. The cool weather and autumn color of October and November have us scrambling again while the fishing is good before the season quietly draws to a close in December.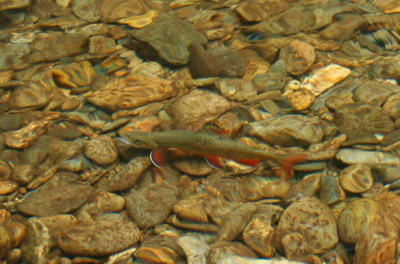 Guides' Day Off: Brook trout high in the Smoky Mountains
We're still guiding a few days a week but we get more time to fish for ourselves. Since August isn't the most hospitable month for fishing the big streams, we like to go high in the mountains where it's cool. Yesterday was no exception. We left the house while it was still dark in order to make the long hike to our destination, get in a full day, then still have time to hike out while we could see.
The trip Charity and I made yesterday wasn't a new one, but it's been so long since we've been there it seemed like it. The hike requires a hike up over a mountain ridge, down the other side into a remote watershed. The stream has no trail that follows it so anyone who fishes it must simply move up the stream bed; or more precisely, come down the stream bed to get back out.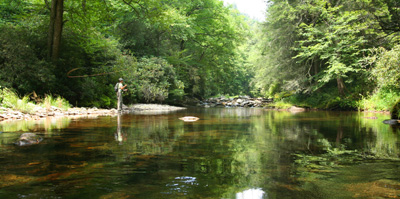 Does this like like brook trout water to you?
The stream we went to is large by Smoky Mountain standards and off the charts when you think of brook trout streams. I'm not going to name it because of its remote nature and the inherent danger of fishing a stream off trail. Something as simple as a twisted ankle could become a serious problem. Those who are familiar with legendary brook trout streams may already know of the place, if only by its reputation.
I've often referred to this place as the "Lost World" among friends. The watershed was never logged. No roads or railroads were ever cut through the mountains into this steep valley. It's one of the biggest tracts of old growth forest in the Smokies and the Southeast. Brook trout still dominate this stream and give an angler a taste of what it was like before the logging companies arrived in the early 1900's along with importation of rainbow and brown trout.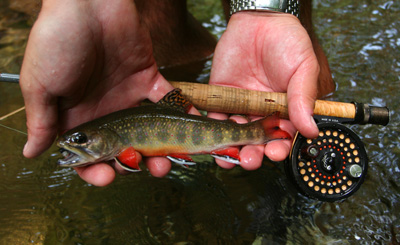 While there were no "whoppers", the average size was excellent when you consider we were fishing for brook trout. This stream has been known to give up a few 10-12″ brookies in the past. We had our shots at fish like that, but failed to get them all the way in. Charity just nicked a fish in the first 2o minutes on the water that was certainly in that range. We usually see lots of 5″ fish on brook trout water in the Smokies with the occasional one cracking 7″. Yesterday I'd say that 7″ was closer to average, almost like fishing other large streams with rainbows and browns.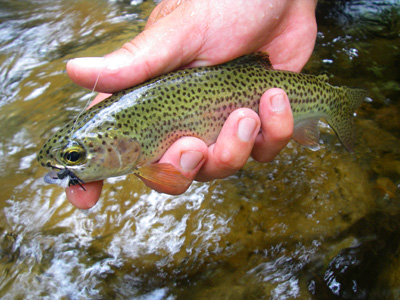 The lone rainbow trout of the day
I did catch one rainbow all day. It's not unheard of here, but only a few have managed to establish a foothold and after about 85 years it doesn't seem like they'll dislodge the brook trout from here. This lends credence to a conclusion drawn by fisheries biologists at Great Smoky Mountains National Park. They now believe that the introduction of the rainbow wasn't responsible for the eradication of the native brook trout. Extremely destructive slash and burn logging practices greatly reduced their numbers and rainbows were stocked into those streams before native brookies recovered. Just as a few remaining brook trout couldn't displace a well established population of rainbow trout, a few intrepid rainbows can't displace a well entrenched population of brook trout.
We used everything from Stimulators to Wulffs to Parachutes. Look at the above photo of the rainbow trout and you'll see an Elkmont Ant one of my favorite flies for the summer months. It was a favorite of the brookies too.