We're back home from the Rockies, but the weather is virtually the same as what we left in Montana and Idaho. Overnight temperatures have been down in the 30's up in the Smokies with the highest peaks falling into the 20's. Daytime temperatures are in the high 60's or low 70's so it's the perfect time to get out on the water.We can already see the colors changing on Thunderhead and Rich Mountains from our back deck.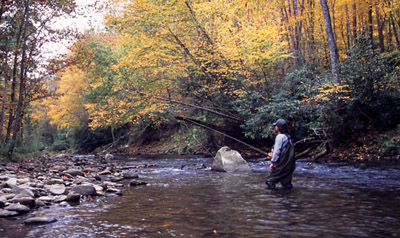 Colors should be this vibrant around the third week of October
Water levels are low, nothing new there. This is a direct result of last year's record drought. We've actually had far more rain this year than we did in 2007, but the water table has yet to recover as rainfall has been slightly less than average for the year. The good news is that fishing was actually pretty good last October and it should be at least as good this year. It seems as though the Tennessee side of the Smokies has fared better this year than the Carolina side.
Be sneaky! That's the key. We hear a lot of folks taking about 12′ leaders and 7X tippet, but in our opinion those do nothing to put trout on the end of a line when the water is low. Keep your leader a reasonable length that you can cast well and you'll do fine. Expect to spook fish – there's no way around it- but keep a low profile and you'll draw plenty of strikes.
Tailwaters
The silver lining to the drought is that there is plenty of fishable water on the tailwaters. Fall is usually a tough time here since lakes are drawn down for the winter. However, there isn't much to draw down so anglers can find plenty of places to go. The best bets are the Clinch, Watauga, and South Holston. The Caney Fork is just outside of our list of regularly fished rivers, but we've heard nothing but good things about it this year. The Holston river below Cherokee Dam should also be fishing well under these conditions. Water levels have remained quite fishable this fall and water temperatures have hung in as well. In fact, we're planning on a banner spring season there next year during the caddis hatch.
The Tuckaseegee in Western North Carolina will open under Delayed Harvest regulations next week. In fact, all the DH streams will be open. The Tuck will be a good place for wading anglers to go, but water levels won't be favorable for floats for some time.