We're finally home and while I always get a bit misty when I leave Yellowstone country, it's very nice to have the beautiful Smoky Mountains and colorful trout to return home to. Every year is different on the Madison. September is a time of dynamic weather in Montana when you can get a sunburn one day then suffer from hypothermia in a snow storm the next. While the weather was absolutely beautiful the river was a bit out of sorts this year.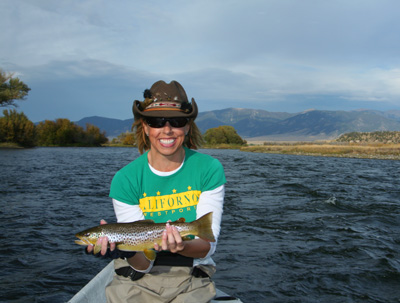 Trip summary in a nutshell: Big sky, big fish, big smiles  LaDawn Ostmann with a nice Madison River brown trout.
The Madison River is a tailwater below Hebgen Dam just outside of West Yellowstone, Montana. Western tailwaters are far different than those we have in the Southeast. While we're used to water levels fluctuating on a daily level, most western dams run at a fairly even pace and flows generally mirror natural flows with the highest flows during early summer snow melt and the lowest flows in the fall and winter.
Less than two weeks before we arrived on the Madison there was a problem with Hebgen Dam that allowed far more water to flow than should have. Typical September flows on the Madison are 800 – 900 cfs. We arrived to find something like 3200 cfs flowing. We knew this in advance and weren't worried since guides we have used for years were catching some nice fish. However, dry fly fishing was practically non-existent and nymphing was tough. The best method for catching trout would be fly fishing with streamers. Fortunately, most of the anglers on our trip were die hard streamer fly fishers.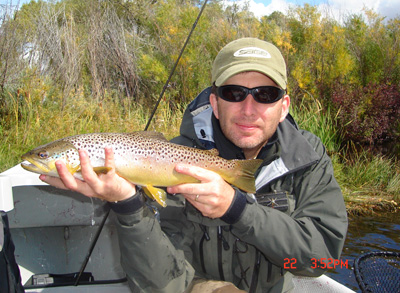 Streamer fanatic Peter Petruzzi shows off a nice Madison brown near Ennis
To quote one of the guides, "The streamer fishing is off the hook!" Matt Smargiasso floated with guide Steve Mock one day and had his best day ever on the Madison. They covered about 20 miles of river that day; a long float but it only took about 8 hours with the high flows. Steve estimated that Matt moved 4-6 fish per mile. You do the math. Matt's best fish with 21 1/2″ with a few more around 20″. They figured the average fish was around 16-17″.
Flows began to fall mid-week and wading and nymphing became an option, but most of our anglers hung in there with the streamers. There were some floats up on the Jefferson and lower Madison below Bear Trap Canyon, but the main section of the Madison upstream of Ennis was the best place all week.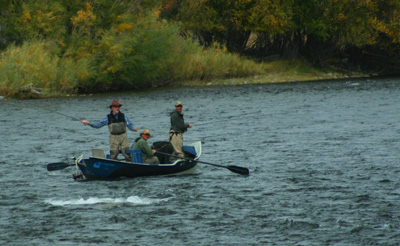 Guide John McClure rows John Milner and Peter Petruzzi from Varney Bridge to Ennis
Not all of our anglers were experienced with streamers. Julie Tallman was somewhat new to the tactic of throwing large articulated flies with a sinking line but was a quick study. She hooked what would have been Slide Inn's largest fish of the season but it managed to run under the boat and oar when her guide tried to net it and it popped off. The guide estimated the brown trout to be around 8 pounds and 24 -26″ long.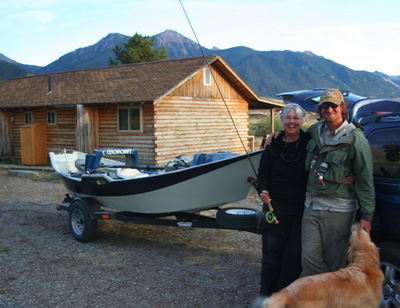 Julie Tallman and her guide John can't help but grin after a big day on the Madison
Wading became an option later in the week and fishing with small nymphs was the best method. Most flies were in the #18 range to imitate the baetis that were sporadically hatching. However, the streamer bite continued for those who wanted to cover lots of water and throw big streamers.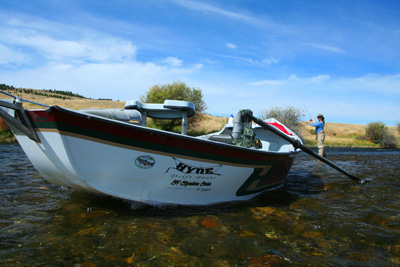 It was easier to nymph spots by wading when the water got low enough for it to be effective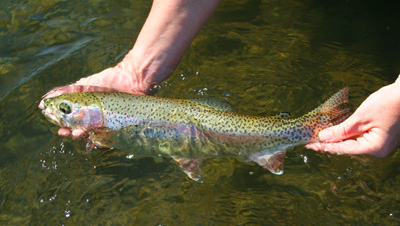 While brown trout tag streamers the most, we still picked up some nice rainbows
As always, chef Trey Braasch kept us eating well. Evening meals consisted of champagne chicken and mushrooms, shrimp scampi, bacon wrapped pork loin, and other great entrees. Desserts included white chocolate raspberry cheese cake, molten chocolate lava cake, and apple pie a la mode. We've become pretty good friends with Trey since we've been going to Slide Inn and try to fish with him at least once while we're there. He's an absolute streamer nut and enjoys splitting time on the oars to float the best streamer water on the river.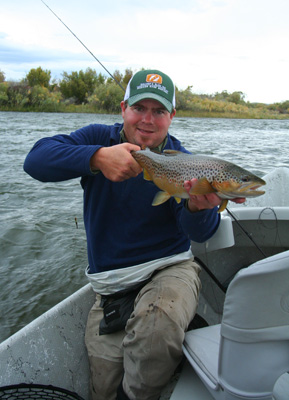 He can fish almost as well as he cooks
We can't wait to get back to the Madison next year.