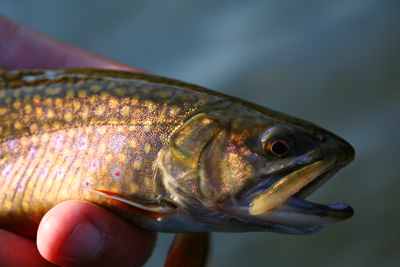 We've floated the Clinch a few times this week and it has been fishing  very well. Both generators are down at Norris Dam and TVA is sluicing a steady flow of 420 cfs. That is, they have a gate cracked to keep a steady flow. The result has been great for fishing. While water is still low enough for wading, it's a little higher than we've typically seen in past few years. The fish seem to be feeding better and are certainly less skittish if you're fishing from a drift boat.
Brook trout have been a new addition to the river this year. The Tennessee Wildlife Resources Agency started stocking them in the river close to a year ago. I used to wonder why the state didn't stock them there since that's one of the coldest tailwaters we have and brookies flourish in ice cold water. Most of the fish were stocked in at a relatively small size, but right now you'll find most of them between 9″ and 12″ long. They've been in the river long enough that they have very nice color. Some have vibrant orange bellies.
The old standby Clinch River flies are working as well as ever. About any midge pupa or larva pattern will work well.  The Zebra Midge has been one of the most popular in the past few years. A #16 Beadhead Pheasant Tail Nymph is also as effective as ever. You'll see numerous rise rings on the surface as the fish are eating midge emergers, but you'll hook more fish using a nymph.
Trout Streams in the Smokies
Fall color is getting more vibrant every day.  We had a pretty good rain a few days ago and water levels improved a bit. There's a chance of scattered showers late this week. Weather has been unseasonably warm. Our average temperature for this time of year is in the low 70's or high 60's in the Smokies. We've been about 10 degrees higher than that but it looks like a cool down to more seasonable conditions is on the way.
Fish are rising to Blue Wing Olives, midges, and micro caddis. A #18 Hi-Vis Parachute Blue Wing Olive has done extremely well for us this week. We've also used #14 Parachute Adams and #16 Haystacks in the rougher water.
It's a good time to see black bears out and about. I saw another bear above Elkmont a few days ago with Brian Jones and Eric Tuttle. We were on the trail and we spotted it on the other side of the river foraging about for acorns. It's one of the largest I've seen, perhaps 40o pounds.  I pull that number out because it was at least twice the size of bears I usually see and the average Smoky Mountain black bear weighs about 200 pounds.