We're in the middle of our busy October guide season. The weather has been beautiful and the leaves have really started to change rapidly this week. Water conditions have remained low in the Smokies, but some rain early last Friday helped things out and more rain is in the forecast for this week. The fly fishing is a tad tough, but far from impossible. In fact, I'd say that right now the streams in the Smoky Mountains are fishing quite well for experienced anglers. Blue Wing Olives have been hatching every day in the middle of the day. A #14 Parachute Adams can catch fish, but a #18 Hi-Vis Parachute BWO will do even better.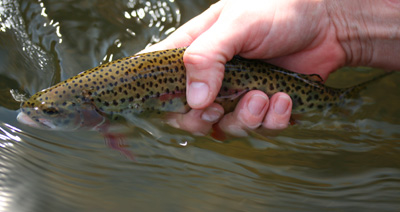 A colorful Clinch River rainbow trout caught last week
The Clinch has been fishing quite well this fall. I hate to act surprised, but this once remarkable tailwater has been on the slide for the past several years. While most of the trout we've been hooking have been less than 12″ long, each and every one is colorful and strong. There have also been a number of fish hooked up to around 16″ or so. We're hoping that the slot limit imposed by TWRA earlier this year will continue to help bring this fishery back to its former glory days. We've also seen some of the huge brown trout that contributed to the river's reputation for big fish. A couple of those browns were easily in the 8 -10 pound range.
We've been sticking with small beadhead nymphs in #16 – 20. Trout have been rising to midges and a small pupa pattern fished about 12″ – 18″ under an indicator or dry fly will hook far more fish than a dry fly.
Both turbines were down on Norris Dam for a couple of weeks. The constant flow of 420 cfs was superb for floats or wade fishing. One of the generators is now back on line so you can expect the typical day to day variation in flows, but expect good flows for wading. Those who want to float will need to keep an eye on the schedule to be sure the river isn't too low.
Hazel Creek
Last weekend I was on Hazel Creek for our semi-annual fly fishing camp out. We had a fun group of folks and had a great time. I'm considering changing the name of this trip to "Smoky Mountain Drought Busters" since we always get some rain whenever we've done this trip. Fortunately the rain was short lived and seemed to bring on a decent hatch of Blue Wing Olives.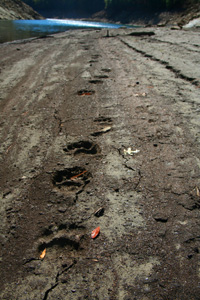 Bear tracks along the banks of Fontana Lake at the mouth of Hazel Creek
Wildlife on Hazel Creek was quite active. Members of the group saw about every large mammal in the Smokies. For bears were seen as well of tracks of a couple more. Deer, turkeys, and wild boar were also seen along the stream.  Both rainbow trout and brown trout were caught by our party. Water levels were low and fishing was a bit more difficult than we like to see it in the fall, but the fishing was still good enough for everyone to hook up with some fish. We're looking forward to our next trip in the spring.