As you may know, the National Park Service is conducting a major native brook trout restoration in the Tremont area of the Smokies. This is one of our local streams and one we consider our home water. We have volunteered our help with park biologists in the past will continue to support their efforts.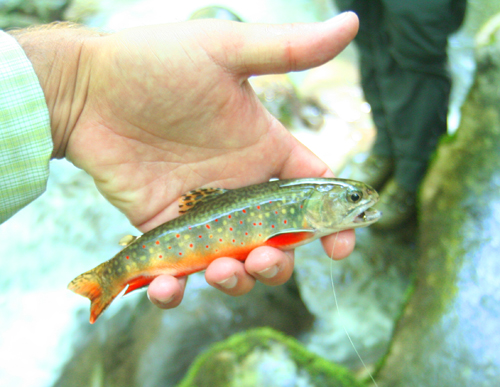 This is the largest and most ambitious brook trout restoration Great Smoky Mountains National Park has ever undertaken. Lynn Camp Prong is a fairly large stream and the length of restored stream is well over six miles. We have walked the stream several times this season and been thrilled to see some very nice brook trout feeding in the current. Furthermore, we've had a number of guided trips this year where we've caught some brookies in the upper end of the Middle Prong of Little River and the lower end of Thunderhead Prong. This is strong evidence that brook trout will continue to spread from the treated water and regain even more of their ancenstral territory.
Brook trout put in the stream almost two years ago have done extremely well in their new home. All of these brook trout were brought to Lynn Camp Prong from other streams in the park. None of these fish came from a trout hatchery. They have grown quite well and had two very good spawns. The fact they are growing and reproducing means that the project has a very high probability of success.
[youtube]http://www.youtube.com/watch?v=D3RdGzSWboE[/youtube]
To remove rainbow trout from Lynn Camp Prong biologists used a fish toxin called antimycin. This is an ideal chemical because it is highly toxic to fish, but only marginally so to aquatic insects, crayfish, and salamanders. In fact, it is harmless to many organisms. Another positive of antimycin is that is breaks down very quickly to harmless chemical compounds in turbulent water. In fact, it breaks down so fast that very short sections of stream have to be treated to ensure all rainbow trout were removed from the stream. Antimycin has a very similar effect on fish that carbon monoxide has on people. It stops a trout's body from being able to process oxygen.
However, the large scale of this project has caused some unforeseen bumps in the road. This project has had strong local support and would never have been possible without funding and volunteer labor from Trout Unlimited. At least a few people didn't share this view and took matters into their own hands. There is strong evidence to show that someone brought some stocked trout in buckets some distance up Lynn Camp Prong and dropped them in the stream. A few large trout were discovered. These fish were larger than could be reasonably be expected for this stream and had worn fins. Both of these point to the strong likelihood these were hatchery fish.
At the same time biologists also discovered an extremely small tributary previously believed too small to hold fish had a few trout that escaped the removal. As it turns out fish from this little trickle found their way into the larger stream and re-colonized. Many very small fish were subsequently found and park biologists have decided that this short section of stream needs to be retreated. This is the only way to be sure such small fish don't disperse any further through the stream and create a viable population of rainbow trout.
While exact dates haven't been set yet, park biologists plan to re-treat the problem section of Lynn Camp Prong this September. Biologists and volunteers will go in before the treatment with electro-shockers to capture as many brook trout as possible and remove them to a safe haven. After the treatment those brook trout will be recaptured and brought back to that section of Lynn Camp Prong.
The Little River Chapter of Trout Unlimited is providing a tremendous amount of volunteer labor for this project. You don't have to be a member to lend a hand though. Exact dates haven't been set yet, but plenty of volunteers will be needed in September. We take pride in the help we have contributed to this project as well as the Sams Creek restoration and other monitoring around the Smokies. If you're interesting in helping out contact Charlie Chmielewski at 865-661-7325. He'll add you to any email notifications and get you scheduled to help out.