I took Pat Segraves out for two consecutive days of hike-in fly fishing in the Smokies. Whether Pat planned it this way or not, this is the way to go in late August. He wanted to experience a day on a brook trout stream and another day on a smallmouth bass stream.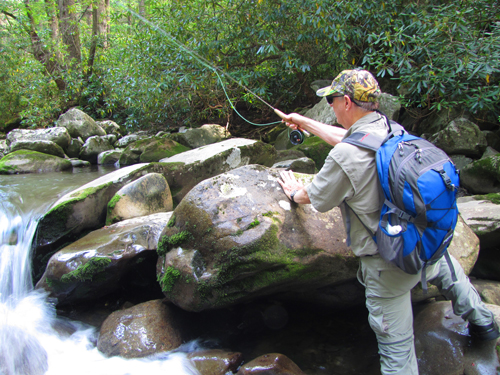 As is almost always the case, the brook trout were more than willing to reward Pat with plenty of action. He hooked up plenty of fish up to 8″, about as large as you can reasonably expect in the wild trout streams of the Smokies.
Were were over 3000′ and the weather was very pleasant and the water was 59 degrees.
For day two we hiked in to one of my favorite smallmouth bass spots. It doesn't get much pressure since the typical fly fisher around here prefers trout over bass and most anglers don't hike very far in to any stream.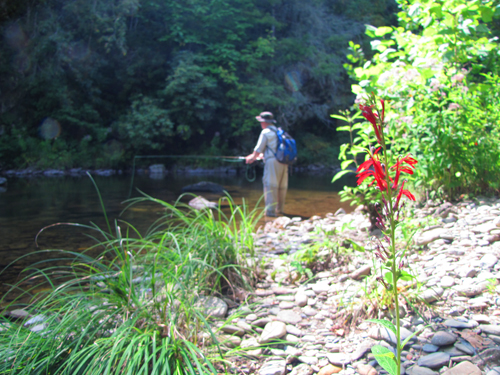 The popper fishing was fantastic. I don't remember how many bass Pat caught, but it was enough to lose track, but not so many that you thought they were absolute pushovers. In short, a perfect day on the water.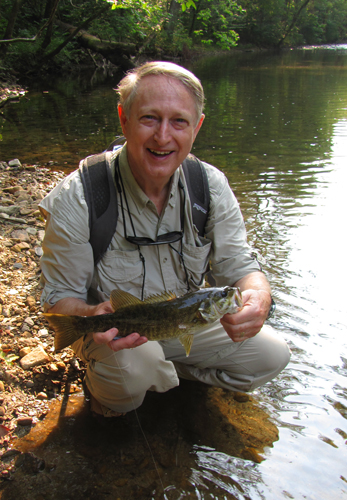 One of many fish caught that day – all on poppers
Plus we saw a bear foraging along the stream. It was rolling small to medium size boulders looking for crayfish or salamanders underneath. Very cool…