Yesterday Charity and I took two new Tenkara rods out for the afternoon in the Smokies. We've been pretty curious for a while but finally pulled the trigger. Everything we've ever read about Tenkara touts its simplicity, and that is almost an understatement.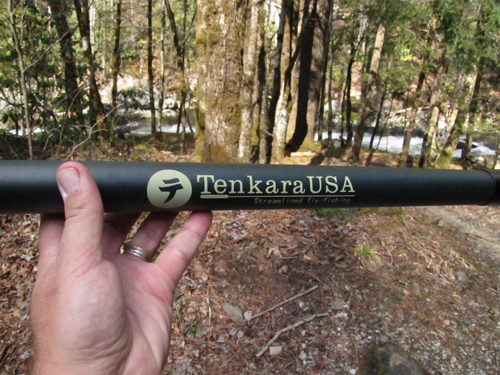 There is very little to do in the way of set up since there is no reel or fly line. We took two rods, a 13′ Ayu and a 12′ Iwana and used to different style leaders. The first leader was the furled style with a few feet of tippet material. This rig cast beautifully on both rods but was a little long for the area we were fishing.
We made leaders with Tenkara level line, nothing more than hard monofilament and added some tippet material. As light as this was the rods still cast the flies very nicely and accurately. I can say with complete confidence that anyone who can fly cast will find Tenkara very easy to pick up. It's probably easier for those who have never fly fished, but like a fly rod, Tenkara demands a light touch.
We fished with both dry flies and nymphs. As you might expect, the nymphs did better since it's January, but Charity did hook a fish on an Elk Caddis. There were good numbers of Early Brown Stoneflies laying eggs on the water and Charity found one enthusiastic riser to take her fly.
Our only problem came when it was time to land fish, and it was primarily because of our inexperience with these long rods. Every time we hooked a fish we hung the rods in overhanging branches. We've used 8′-9′ fly rods on these streams as long as we can remember and are accustomed to keeping them out of the trees. The extra few feet was no problem during casting, just during the excitement of hooking fish.
I can tell these rods will work superbly on larger trout streams around the Smoky Mountain region like Little River, Tellico River, Deep Creek and others. Tight streams like Jake's Creek, Little Cataloochee, and Chasteen Creek that flow through rhododendron tunnels are probably not well suited for this. These streams are tight enough to challenge most fly fishers with much shorter rods and require a fair number of bow and arrow casts. I'm sure we'll eventually become very comfortable handling fish on these longer rods, but for now we're going to stick to the bigger waters to gain some experience.
I am very excited to try Tenkara in a number of spots, though. The extra rod length coupled with the all monofilament line will make it much easier to achieve a good drift in countless locations. It also allows you to stay further back from the fish in pocket water like we have in the Smokies. The ultra light, extra sensitive tips on these rods also make them excellent for tight line nymphing or wet flies. Even those who have always relied on strike indicators could probably do pretty well tight lining a nymph on a Tenkara rod.
We plan to continue using these rods and keep you posted on our progress.