It's been an exceptionally mild winter here around East Tennessee. There's been a few cold snaps along with some snow high in the Smokies, but the weather has been more like late fall or early spring than winter. This would normally mean excellent fishing, but it hasn't been as simple as that.
We've had a very wet fall and winter so rivers across the region have been well above average. In recent weeks most of the tailwaters have not had many days with fishable flows. Hopefully this will change. Long range forecasts show us drying out over the next few weeks, so hopefully this will translate into better flows from the tailwaters.
This chart from TVA shows that it will probably be a few more weeks before the Clinch river will have lower flows. Norris Lake (shown as the red line) is currently higher than TVA's flood guide so you can expect them to generate as much water as possible until the lake falls below that level.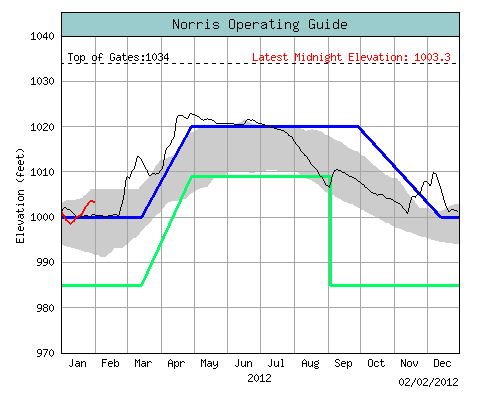 Fortunately we should see lower flows in the coming weeks on the Holston, South Holston, Hiwassee, and Watauga Rivers. It's been November since our drift boat has been out of the garage and we're ready to get it back on the river.
Smoky Mountain streams have provided the best opportunities to fish over the last couple of months, but even they have had a good number of days with high flows. Fortunately they don't stay high for more than a day or two.
Mild weather has meant far better action than typical for January and February. All this warm weather also means that our hatches will probably start earlier than normal. We wouldn't be surprised if our Quill Gordons start hatching in a couple of weeks. We usually look for them around March 1, but this year it could be mid-February.
We'll be sure to post a report when the hatches start.