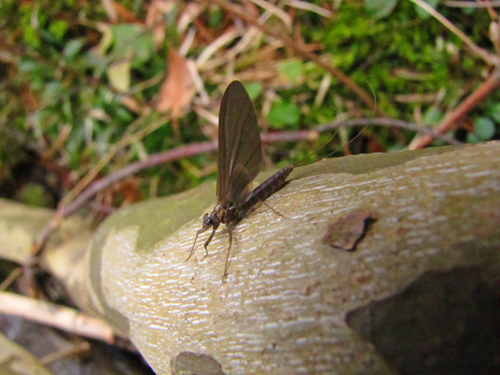 Quill Gordon: The surest sign of spring on the streams in the Smokies
Spring really has arrived early, at least from a fly fisher's view. Here in the Smoky Mountains of East Tennessee we've already experienced about a week of afternoon hatches with rising fish. This doesn't usually happen until early March or the last week of February at the earliest. That has put us in a kind of running around with our heads cut off mode of trying to balance our work, time with kids, and fishing since we're not really prepared for such an early season.
On the other hand, we've had a couple of frosty mornings and snow is in tonight's forecast. Looks like winter isn't really over, but that's usually what March is like. We get a few warm days followed by a few cold ones until the warm ones outnumber the cold ones. By May there might be one last shot of cold, locally referred to as "blackberry winter" and you'll know it's over.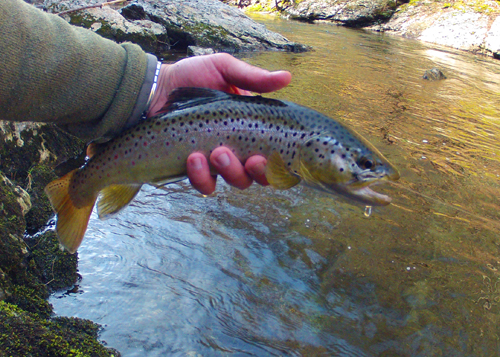 This 16″ Little River brown trout at a #12 Quill Gordon Parachute
We haven't been on the water for more than three hours at a time and we're still getting the very best of the fishing that's going on. First of all, with the cold weather moving in don't expect the fish to move much in the mornings. In fact, the past two days the water has been in the low 40's or high 30's in the afternoons. The fish are only moving when the bugs are hatching.
Quill Gordons are hatching well, but don't forget about the Blue Quills. These small #16-18 mayflies are very similar to a Blue Wing Olive but hatch in far greater numbers than the Quill Gordon. A small fly may be far more effective than a heavily hackled #12. Of course, the big fluffy dry fly is more fun to fish!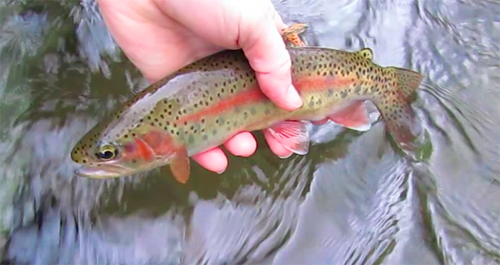 Charity caught this brightly colored rainbow trout on a #18 Hi-Vis Blue Wing Olive Parachute
The tailwater scene may be improving in the near future, but it seems like we've said that several times before. Don't expect the Clinch to have good water levels for a while, but the South Holston, Watauga, and Holston Rivers are all showing signs of improvement so keep you eyes on the TVA generation schedules.