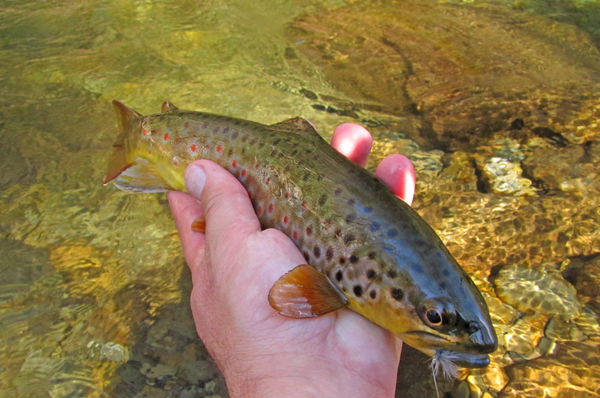 The fly fishing in the Smokies continues to be great! And the fishing on our local tailwaters… Did we mention that the fishing in the Smokies is great?!?
We had some high water over the weekend, but that has subsided and there are clear flows in all of the mountain streams. All of the charts show just about perfect flows for all streams. The Quill Gordon hatch seems to be on the way out now, but other insects are filling in. We're seeing some March Browns as well as an assortment of Blue Wing Olives and Blue Quills. As always you'll find an assortment of small caddis flitting about and depending on the moment you'll likely find good numbers of Early Brown Stoneflies laying eggs.
At least locally the tailwater scene is pretty grim. The Holston River has short windows of fishable water, but you have to live relatively close to the river to be able to capitalize. The Clinch is spilling thanks to last week's heavy rains and we don't see it coming down for at least a couple of weeks.
You can see on this graph where the red line represents current water levels are in Norris Lake. TVA wants to keep them below the green line, and worst case scenario wants the lake level inside the gray field.
Charity returned yesterday from her epic journey to the trout rivers of Patagonia. She only sent us a fraction of the photos she took because of slow internet connections. We'll have a complete wrap up in an upcoming post. She has some phenomenal scenic photos of the rivers and mountains.