It's early May and we're on the water almost every day guiding fly fishers on the big tailwater rivers and on the creeks up in the Smokies. It's prime time as far as we're concerned and we're happy to say the fish are cooperating on most days. There have been a couple relatively tough days in the past couple of weeks, but that happens sometimes and changing weather was often probably the cause.
An angler takes a break from fishing out of the drift boat to do some wading and hook up with this jumping trout rainbow trout
Ian has spent most of his days rowing the drift boat on the Holston and Clinch Rivers. Hatches have been sporadic on most days with periods of good dry fly fishing, but most of the fish are being hooked on nymphs. Periods of generation on the Clinch have had some pretty good streamer fishing when Sulphurs weren't hatching.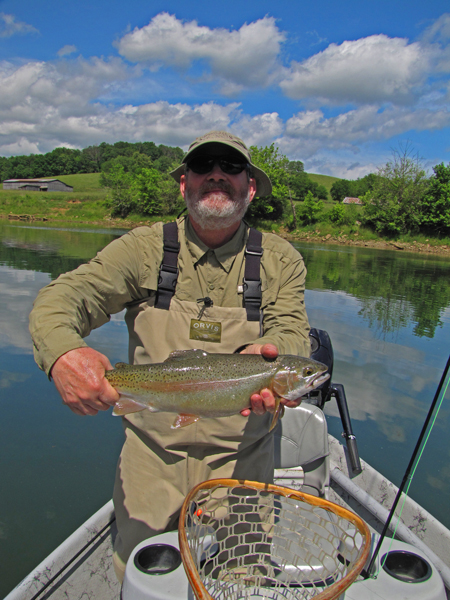 Remember back in the winter when tailwater flows were so high it was hard to get any fishing in? It seems like it wasn't that bad a thing after all. There have been some exceptionally nice fish brought to the boat over the past week including this 19″ (that's measured) rainbow trout. There was also another fish put in the net this week that stretched out past the 20″ mark on the ruler. Unfortunately, a *ARGH* camera malfunction kept us from having anything to show.
Dry fly fishing in the Smokies has been very good this week, but don't leave home without your nymphs. The weather forecast shows plenty of afternoon thunderstorms so water levels may rise enough to make nymphing more productive. A dry and dropper rig with a #12 Stimulator on top and a #14-16 Copper John or Pheasant Tail Nymph underneath is a great way to compromise if there is clear water.
The unseasonably warm weather last week actually had us wading wet already, but it looks like cooler weather on the way will put us back in waders in a few days.