We've spent the past week floating the big rivers and wading in several locations across the Smokies. For the most part we've had excellent success. Even on the days when things were a little tougher we'd manage to get on a hot streak late in the day.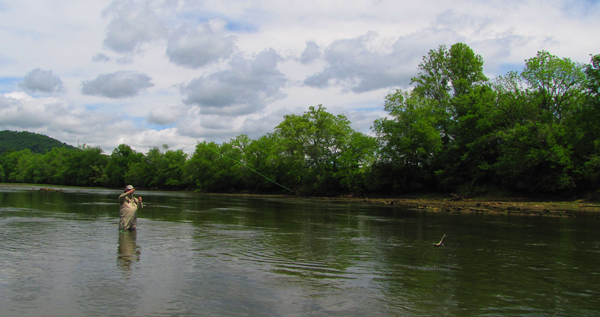 This angler couldn't resist watching risers as we ate lunch on a float trip and waded out to hook this fish on a dry fly
So far we're still seeing most of our action on float trips take place on nymphs. Most years we'll see tons of hatches and have long periods of dry fly fishing. This year we're getting in some dry fly fishing in a few spots, but nymphs are out producing by far. Zelon Nymphs in #16 have been our "go to" pattern and we've fished it almost to the exclusion of everything else.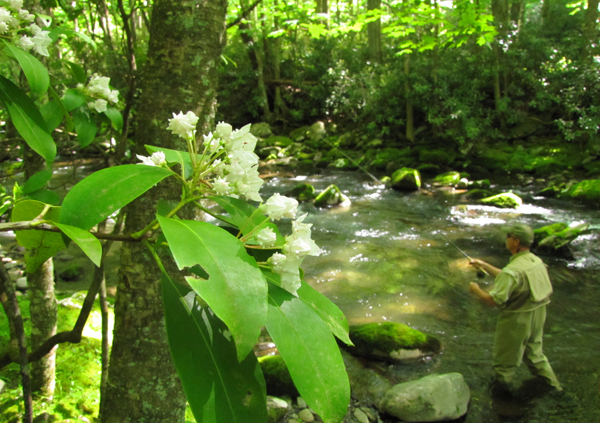 Not only is the fishing excellent in Great Smoky Mountains National Park right now, it's absolutely beautiful. Mountain Laurel are in full bloom along many streams.
Dry fly fishing has been pretty good, but we've relied on nymphs a fair amount, especially in the mornings. We had some cool weather this past week and the fish were a little slow to move. Tellico Nymphs in #12 and Copper Johns in #14 were our best producers along with one of our favorites, the Pat's Nymph. As the days have progressed we've used a dropper rig with a Stimulator on top and a #16 Copper John or Zelon Nymph about 24″ underneath.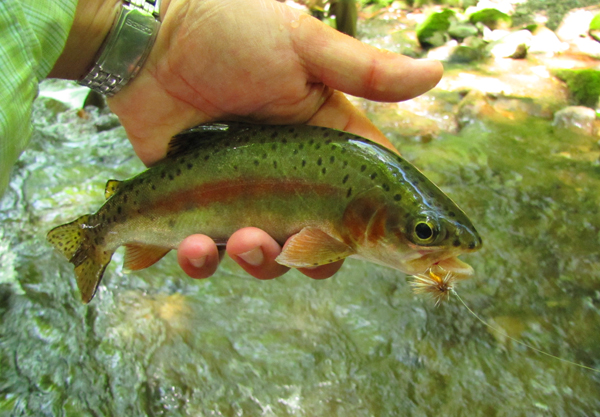 We've seen a few nice brown trout in the park this week but rainbows have made up the bulk of the catch on the larger streams we've been frequenting. There are plenty of chunky fish this year like this one that ate a Mr. Brownstone.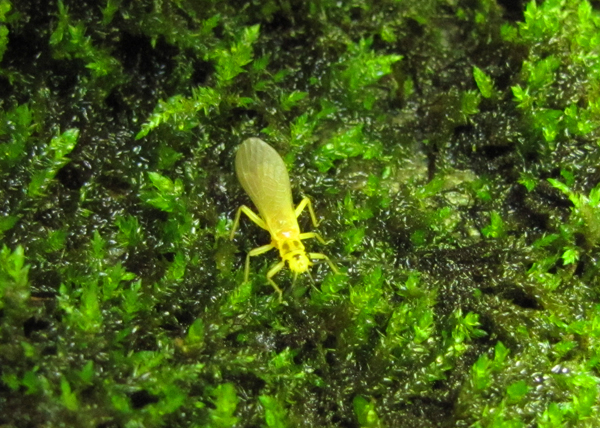 It's May and that means that Yellow Sallies are out in full force. You'll experience the best egg laying flights just before dark, but look for them hatching on rocks and boulders in the middle of the stream. You can also expect a #16 Yellow Stimulator or Smoky Mountain Sally to raise a few fish.
We'll be on the water all week!