Earlier this week I had a pretty unusual day on the water with a customer. Before we even got to the water things were just a little bit different than usual. Jason, my angler, was British and had come to East Tennessee for a vacation. Futhermore, he's a British subject living in Dubai which makes him the angler from the furthest distance I've ever guided. I've had other Brits in the past as well as a regular from Paris and I once even took a Turk fishing a few years back.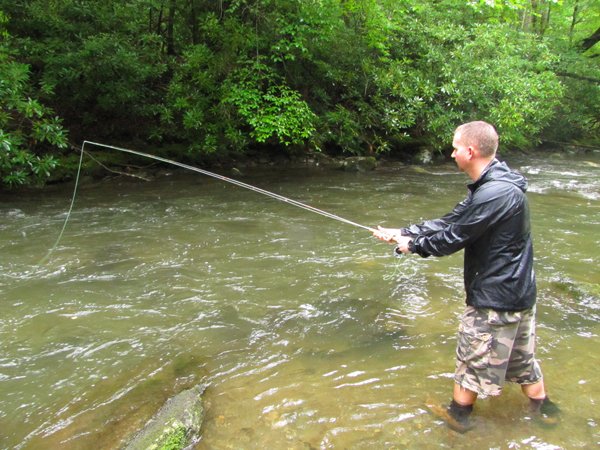 It was a pretty rainy day, but Jason was actually eager to get out in the rain. As an expatriated Brit living in the desert he was actually thrilled to feel rain on his face.
The water was pretty clear as we started and the fishing was so-so. Jason was a touch rusty with his casting and drifts and the fish weren't giving out any freebies, but after close to an hour on the water he became much more comfortable with the equipment and the fish seemed to become more eager at the same time.
Dry flies weren't pulling many fish to the surface and every strike Jason got came from a nymph dropper so I re-rigged his rod with two nymphs and a strike indicator.That was obviously the right way to go because the fish started to come much faster.
At one point Jason hooked up a fish, but there were two fish running about in the current. Jason had pulled off the ever so rare "Double Haul", landing two fish on one drift with two flies! Both were very nice fish but in the struggle to figure out how to hold two squirming trout they escaped before we could document it with a camera.
That can be a pretty rare thing, but it only got better. I decided to get a few photos of Jason fishing since the camera was already out when Jason hooked up again. I shouted some words of encouragement, but then wondered if my eyes were deceiving me. A brown trout nearly as long as my arm was just under the surface, allowing the leader to tug him toward Jason. I told Jason to take it easy because the big brown hadn't figured out what was going on yet. It was just about that time when the brown began to appreciate the circumstances and ran back across the hole.
It was one of those panicky moments as a guide where you're trying to put the camera away without dropping it in the river, give clear directions, not sound as if you're yelling at someone, and still get the job done. Jason did a brilliant job, but was essentially unclear on how to play a fish that pulled back with authority. At one point the fish made a strong surge while Jason maintained a white knuckle grip on the line and the parted company.
It was still really cool for Jason to hook such a large fish on his first outing in the Smokies and he got a good look at the fish. The fishing continued to be great, but were were clearly on the downside of the day's peak.