Things will usually start to slack off a bit for us as the calendar progresses into August. The kids are starting to head back to school, it's hotter than whiz bang, and water levels aren't at their best. That's a normal year, but this year our schedule hasn't let up much at all and we're spending plenty of time at the office.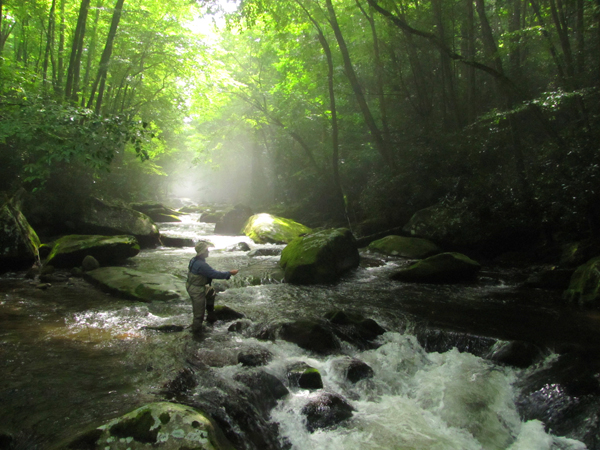 Yup, another day in the office. At least it has a good view.
In spite of a record breaking drought across 60% of the country, water conditions in the Smokies are in about as shape as could be hoped for. Regular rains are keeping the streams in good shape and the air cool. It was 57 degrees on my porch for a couple of consecutive mornings and I even broke out a lightweight fleece for the first couple of hours on the stream. You'll even note from the photo above that we've opted for waders on one cool and damp day.
Like I said before, not your typical August.
Tailwaters
Unfortunately it has been a relatively typical August set up on our local tailwaters. TVA has started to draw down the reservoirs which means high flows on the Clinch and Holston Rivers. If you're up for some hard labor stipping streamers on the Clinch you might come away with a toad, but with flows in excess of 9,000 cfs you won't turn many fish.
Dedicated tailwater anglers will be heading for the South Holston. As usual, flows in upper East Tennessee accommodate  both waders and floater. You can wade in the morning and float after lunch when the generator kicks in, or run downstream to stay ahead of rising water. Sulphurs are still in the mix but you're likely to see the hard core  headhunters stripping junk for the big boys.
Smallmouth Bass
Again, big river smallies in the tailwaters are hard to come by because of the flows. The Holston has been a tough nut because of flows, but anglers who have a good handle on flows on the French Broad below Douglas Dam can find some good water.
The rain has been a mixed blessing when it comes to river smallies. Many of the top locations like the Pigeon,  Nolichucky, and upper French Broad can get muddy after a passing storm. Rivers and streams coming out of the National Forests and National Park will typically stay clearer or at least clear faster.