Late winter hung on well past its typical departure date here in East Tennessee, but the sun and warm temperatures have finally arrived. We've been guiding in a number of locations over the past week and it's good to say that spring is here. As always, we notice much more around us than just the fish. Here's an old rite of spring that goes back even further than fishing for trout…
[youtube]http://youtu.be/Dw2jV28kaA4[/youtube]
Fishing in the Smokies has finally kicked into gear but we're still battling periods of high water. Last Friday we ended up redirecting or delaying trips we had scheduled for the Smokies on account of high water. By Saturday morning conditions had improved even though high water limited our opportunities.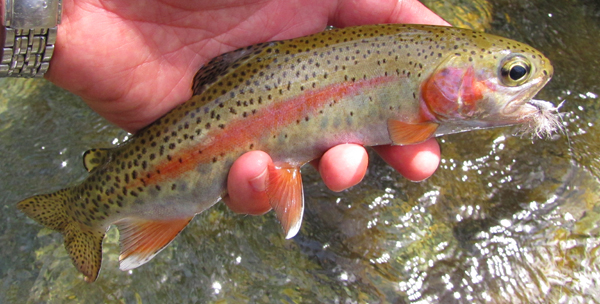 Rainbows and browns like this are not uncommon this season but the toughest part has been finding good holding water. Over the weekend we found that a Tenkara rod at least doubled the fishable water as it allowed us to get excellent drifts in productive runs and pockets across wide, swift rapids.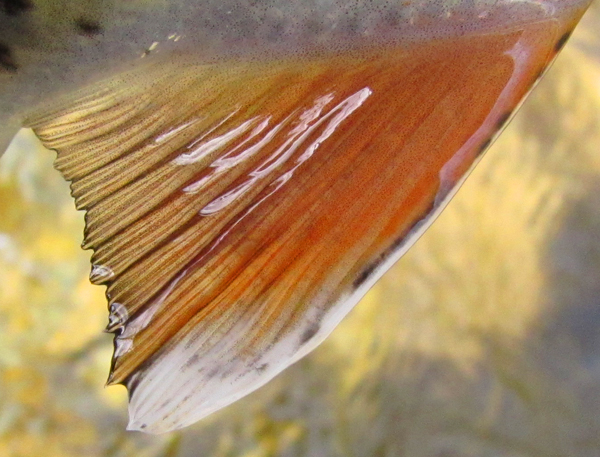 The tailwater scene is also developing quite well. TVA's flow schedules have been pretty good, but that's to be expected in the spring as they allow the reservoirs to fill. We haven't spent much time on the Clinch lately as flows have been a little bit off for for floats, but waders have been doing well.
We just saw some of the first caddis of the season on the Holston and had about an hour of productive dry fly fishing. Nymphing is the primary method right now with the usual staples of #16 Beadhead Pheasant Tails and Zelon Nymphs. Zebra Midges are always a necessity on the Clinch, but keep some Sulphur patterns handy for the afternoons and evenings.
Things are a bit topsy turvy with regard to which tailwaters have the best flows.The Clinch is perhaps the best place for wading anglers to go this week. The South Holston and Watauga, typically safe bets, both have flows that don't favor waders. The South Holston has a premium flow for floaters though while the Watauga is running pretty high for anything besides chunking big streamers from a boat.