Talk about an exciting event for us. A few days back Ron Vernet caught the best fish of the year we've guided an angler to this season in the Smokies. We had a strong set of thunderstorms pass through the night before and the water along Little River road was absolutely filthy as I drove to meet Ron unsure of whether or not we'd be able to get in a day of fishing. We decided to look around for some cleaner water and were fortunate to find some. It wasn't long before we found some relatively clear water and started our day of fishing.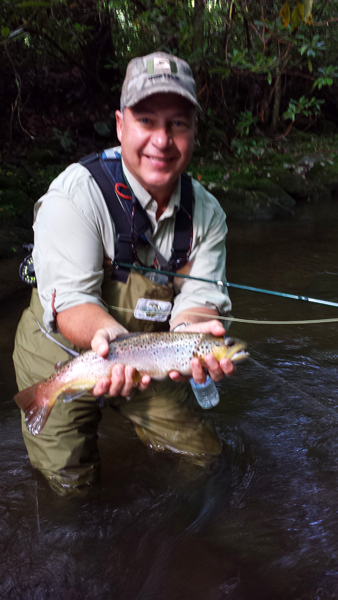 We see fish like this on our tailwater floats with regularity, but in the Smokies… not so much. Before I lay out any further details you'll have to make a mental note not to hate Ron because he really is a great guy. Take a deep breath because this might hurt if you fish the Smokies often.
This was just Ron's second trip to the Smokies and he only fished for a few hours on his previous trip. Second, Ron caught this fish on a fly he tied himself, a lime green Humpy with rubber legs.
That's right on a dry fly…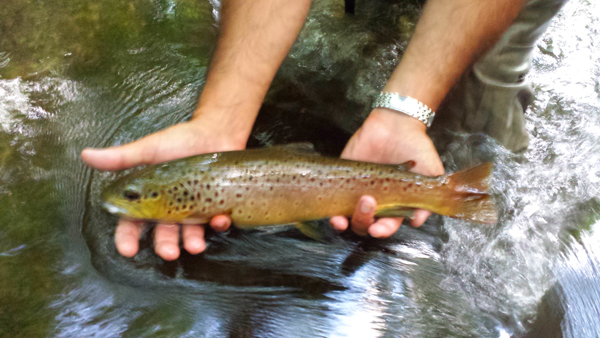 If you're trying to knock it down a little bit, don't even try. The fish was absolutely perfect. Full of color and the random spots of a wild fish. Heck, we were almost in native brook trout water so there was virtually no chance of the fish being a wayward stocker.
If you're jealous, well, so are we. It was a thrill to just get to be part of a moment like that.
After the fish was landed I was appalled to find the batteries in my (rather expensive) camera to be dead. I had a mild panic attack but Ron pulled his cell phone out of a zip lock baggie in his waders. Another exceptional stroke of good luck!
Hope Ron bought a Power Ball ticket on his way home that evening!