Well here we go! We've been guiding a pretty steady schedule for a little more than a month now, but the lingering cold weather put things off just a little bit. But that's all about to change. We're packing our last items for our long weekend camp on Hazel Creek while trying to remember to change our voicemail and set up "out of office" email auto responses. We usually try to give ourselves a day off afterwards to catch our breath, spend time with the kids, and do some laundry before continuing with a string of days on the river.
We realized just yesterday after fielding a string of phone calls where we had to turn away folks who were looking for a day with us over the next few weeks. There are a few days left on our calendar over the next month or so, but not many. That's a good thing! (For us at least)
Of course, 10-12 hours a day of gathering the flies, rounding up the lunches, guiding, and returning calls and emails starts to wear on you a little if you do too much without a break. Most of the day is pretty fun, but the constant physical activity of wading streams and rowing a boat doesn't allow us to stay up late for Jimmy Fallon.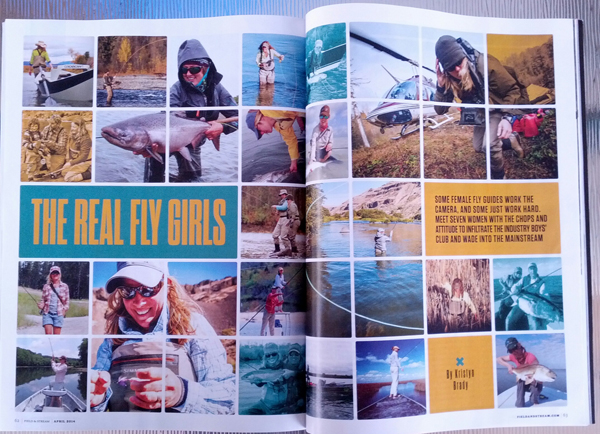 Charity was recently featured in the latest issue of Field & Stream magazine along with six other women fly fishing guides. It went online yesterday and you can find it here. We weren't surprised, but you'll notice how all the women make very similar comments about our chosen career field. I can also tell you that much of what they say applies to the guys as well.
We'll be over at Hazel Creek thru the weekend and we'll give you the details when we get back.