After last spring's "Wet & Wild" Hazel Creek camp that featured torrential downpours for the second half of the weekend, it was a breath of fresh air to have nothing but blue skies and sunshine for all four days of our stay this past weekend.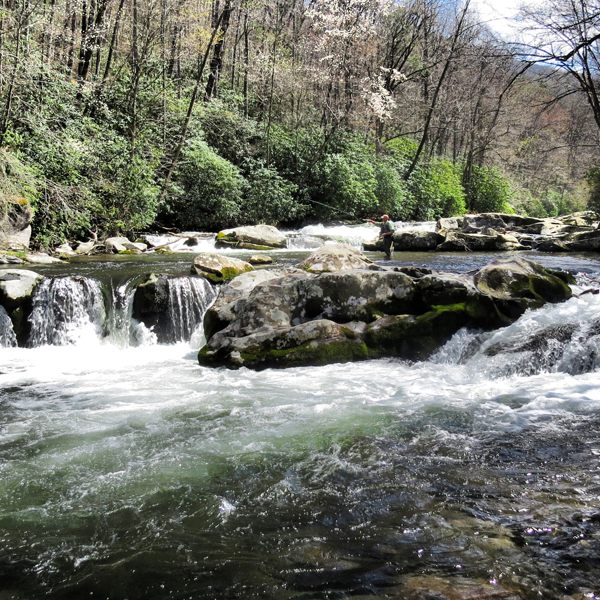 In spite of nearly perfect conditions, the fishing was a bit tougher than we anticipated. Most of the fish caught throughout our stay came on nymphs. Typically we'll fish nymphs or dry fly and nymph dropper rigs up to about lunch time and switch over to dries through the afternoon. There was some dry fly fishing, but not nearly so much as we're accustomed to in the Smokies and many previous trips to Hazel Creek.
The water was a little bit high, although very fishable. That may have explained the lack of overall dry fly activity, even as caddis flies and Hendricksons were reasonably abundant. One thing that really struck me was how the bulk of strikes on dry flies came when our anglers were using a 12′ Tenkara rod we brought along.
The extra length of the Tenkara rod along with the ultra light line allowed for drifts that can't be achieved with standard fly rods. In spite of no reel and a fixed amount of line we were able to fish at a further distance more effectively. While we primarily fished heavy nymphs under a strike indicator most of the time we'd rig the Tenkara rod whenever we came across a suitable slot.
Our group was made up of a blend of anglers with different experience levels. Those who did the best had the most experience, and even as the fishing was tougher then expected, there were plenty of missed strikes to go around, so it wasn't like the fish weren't there.
One of our favorite anglers and campers was John Hedgepeth. Many go on a journey of self discovery when spending time in a wilderness setting like Hazel Creek. John discovered he suffers from Tourette's Syndrome. This is a malady that causes the sufferer to curse uncontrollably in certain situations. John's Tourette's always acted up when he missed a fish, a trout came off the line, or worst of all, when he was surprised by a water snake.
I often tell anyone who will listen that Tourette's is 10 times more common among fly fishers than any other demographic.
As always, the fishing is just part of the good time on Hazel Creek. Time around camp provides some of the most memorable conversations and laughter is always echoing through camp.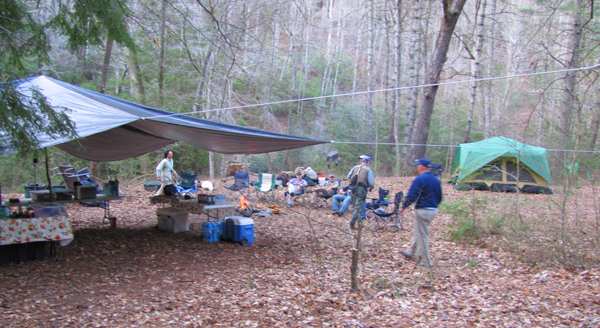 Steve's famous, made fresh in camp biscuits are always a big hit in the morning and are the perfect accompaniment to the bacon, eggs, hash browns, sausage, and home made jams and jellies that are unexpected in a wilderness camp.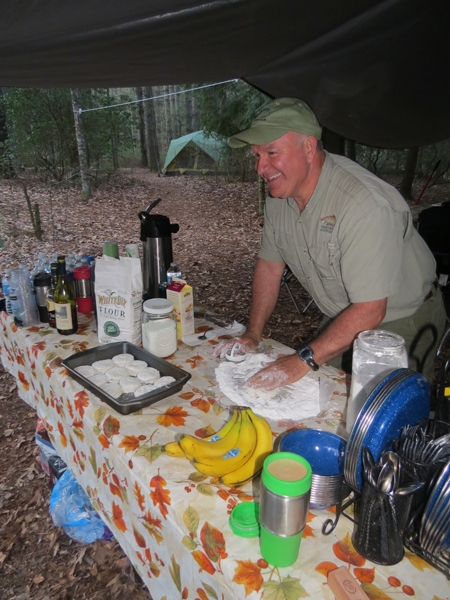 We're heading back over to Hazel Creek May 1-4 and we have an opening for a single, unguided angler. You can give us a call or book it via our online booking system.