It's about that time of the season when I look up and realize I've spent the past few weeks exclusively behind the oars of a drift boat and barely glanced at the Smoky Mountains in my backyard. This year I was well aware that this would happen and scheduled a backcountry death march backpacking trip with one of my friends. Between us we chose on of the toughest hikes in the Smokies for a fisherman. While I spend most of my days with other fly fishers you might say I'd like to get out and not see any others when I get the chance to handle the equipment for  myself.
Writer Horace Kephart referred to the Smoky Mountains as "The Back of Beyond" when he first came here over 100 years ago in the early 1900's. At the time he was a librarian and noted that he could find more information about Timbuktu than he could about the Southern Appalachian highlands with the highest terrain in the eastern United States. The steep mountains covered by thick hardwood forests were impenetrable in many areas. Even today this most popular of all national parks still boasts remarkable isolation in many areas.
The trail we took was overgrown in many sections and the steepness of the path certainly explains the lack of travelers. On our way down into the valley below we only saw a few old boot tracks in soft spots but noticed relatively fresh black bear tracks. The all too familiar sound of plunging water was audible through the forest below us and only increased our drive to get down into the valley below.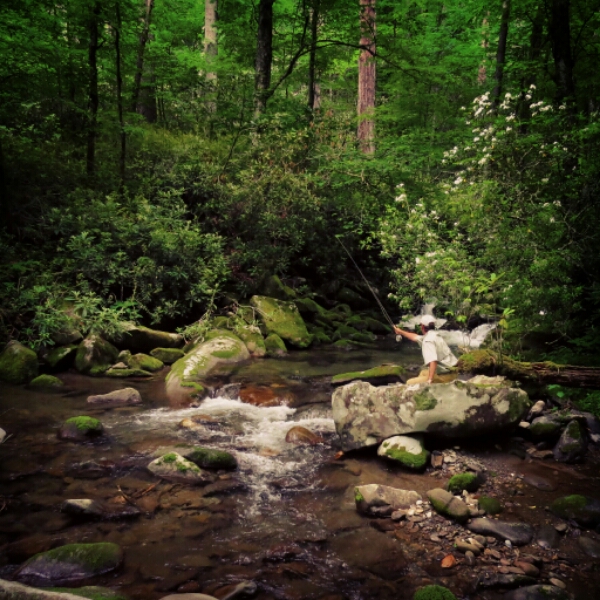 After a few miles we reached a fishable section of stream and took a break from the hike to fish a couple of pools. We could have cast more if the trout didn't take the flies so fast. In fact, at point point over the two days on the stream I told Seth he wouldn't need to constantly treat his dry fly with floatant if those fish wouldn't keep chewing on it.
In two whole days on the water we never saw another fishermen or hiker. We saw a hen turkey with freshly hatched poults who were so camouflaged we almost stepped on one while gingerly stepping around two others who were lying motionless in an attempt to hide from us.
The fish were as naive as you might expect in such a remote location, but true to form for wild Smoky Mountain trout, they weren't complete pushovers. There were the all too common missed strikes and occasional refusals. Many of the fish were very nice for such small water and there were a couple of fish that were missed or shook off that we would have really like to have seen a little closer as they seemed outsized for the stream. Again, it was obvious that the oldest, wisest fish in the stream were unaccustomed to seeing fake food laced with a hook.
Looking back on the photos of the trip I can't help but notice we didn't get any pictures of the best fish we caught because we were so engrossed in the moment. I might like to have a photo of a couple of those fish but that also indicates my "off the clock" mindset, not worrying about getting a photograph, just absorbing the moment.
The Smokies rarely get much credit for trout fishing when compared to East Tennessee's tailwaters which routinely produce large trout or the famous rivers of the Rocky Mountains. However, I always remind people that there are very few places left in the United States where you can find a trout stream that's virtually the same as it was hundreds of years ago. There are still places like this in the Smokies with native brook trout in streams flowing through forests with enormous trees that have been there since the Cherokee were the only sparse inhabitants.
They might not be big, but their presence looms large in my life and I'm glad they persist.