While Charity was guiding anglers in the Smokies Tim Doyle and I headed out to scout the smallmouth situation. Last season's drought made trout fishing pretty tough on a lot of rivers and streams in Tennessee, but we had exceptional fly fishing for smallies on several rivers.
Tennessee is blessed with a tremendous number of quality smallmouth bass rivers. In fact, there are more quality rivers for bass than trout. The Pigeon River near Newport has been one of our favorite rivers for a "guide's day off" of fishing. However, generally low water conditions last summer didn't provide for great floats on this river so we only floated it once in 2007.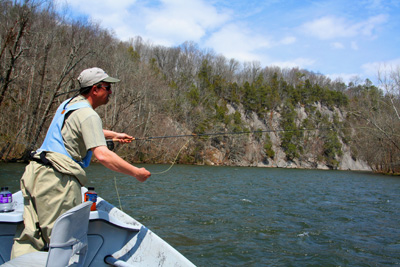 The Pigeon has some of the prettiest water there is to float in East Tennessee. It's a great combination of long riffles, long pools, and mild whitewater rapids. The high peaks of the Smoky Mountains tower only a few miles in the distance. While the Pigeon is currently one of Tennessee's most productive rivers that wasn't the case only a short time ago.
A paper mill in Canton, North Carolina dumped dioxin into the river for nearly 80 years. The river was devoid of life and cancer rates for residents along the Pigeon were off the charts. A law suit in the late 1980's changed that and the paper mill has cleaned up its act. The river has come back with a vengeance. Smallmouth bass are prolific in the river and it's not uncommon to hook a large one. White bass and a number of sunfishes are also common in the river. Furthermore, brown and rainbow trout have even established a wild population in the section of the river near the Tennessee and North Carolina border. This is marginal water for trout based on summer time water temperatures, but it's not uncommon to catch a few.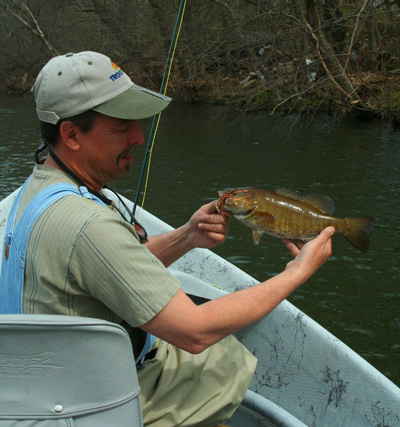 This nice fish ate a brown and orange Clouser Minnow
Fishing was generally slow, but we expected that. It is still March after all. Water temperatures were around 50 degrees which means active trout but sluggish bass. We caught a few fish on Clouser Minnows. All were cookie cutters like the one above. Not a bad average fish. We did try poppers in a few spots but there were absolutely no lookers. It would have surprised us if a fish came up in the cold water, but we had to try.
Fishing for smallies generally gets consistent in mid to late April and continues through the summer and into the fall. We also float the Holston River and Little River for bass.