Yesterday I took Kenny and Harry Macintosh for a float on the Holston River. Kenny was well aware of the drought situation and heat wave and told me to take them wherever the fishing was good. My suggestion was that we float the Holston and fly fish for smallmouth bass. Fishing with poppers has been good to excellent. After describing it to them they seemed excited to try it. Popper fishing is roughly equivalent to dry fly fishing, just more violent.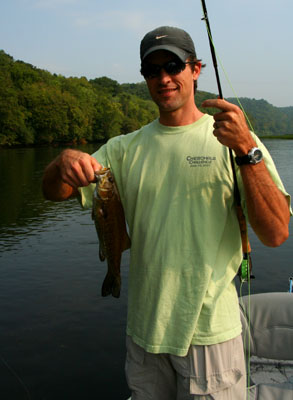 Harry with his first smallie on fly. This is a pretty average example of what we've been catching.
After boating several decent smallies and even hooking up a couple of rainbow trout on the poppers we floated into a section of swift water. We haven't done much in this water with poppers so I switched the boys over to streamers. I was expecting some nice bass to be feeding in these choice pockets and riffles, but the boys hooked up three very nice rainbow trout. One was 16″ and the second was 14″. The third hit the streamer on the first strip, jumped three times, and made a long run down river putting Kenny into backing! Judging from what the fish looked like when it jumped I'd put the fish in the 20″ range, but that's speculative since the fish shook off as we were chasing it downstream.
This is a rather surprising development this late in the season and that far down the river. While this section of river generally fishes quite well in the spring, water temperatures get marginal for trout by late July. Conditions are good for trout for the first few miles downstream of Cherokee Dam in August and September but usually warm up as you get further from the powerhouse. I estimated the water to be around 70, apparently not high enough to encourage the fish to move out or even keep them from feeding. It seems that the drought situation has kept generation out of Cherokee Lake to a point where the water is still so cold at this late date that it is remaining colder further downstream.
That seemed like it would have been hard to top, but Kenny had one really nice bass eat the popper and shake free. From my seated position I couldn't see much, but Kenny did. He's a long time bass fisherman with experience on such quality water as Lake Okachobee and has experience with big bass. He felt like the fish would have been four pounds or better and was frustrated it came off, but we still weren't done.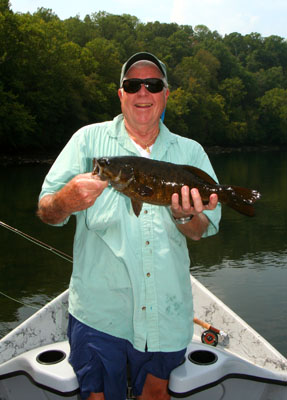 Not bad for his first time fly fishing for smallmouth bass!
This huge smallmouth bass sipped a #6 chartreuse Sneaky Pete popper like a rainbow eats a midge. We caught several more fish that were quite nice, but didn't have the same impact after Kenny set the bar so high. I measured a couple more fish over 15″.
Drought Effects on Smoky Mountain Trout Populations
Charity checked in with the fisheries biologists at Great Smoky Mountains National Park to see if they had any current information on the status of trout populations. Matt Kulp responded and seemed to have a good degree of optimism. Here is a quote from the email:
The drought has been a tough one thus far. Our rivers are at all time lows. We feared the worst, but when I ran some of the numbers last week, I was amazed to see that at least for streams above say 2,200 feet and up, the numbers (density/biomass) looked the same. What's been happening so far, has been a composition change, whereby adult fish have declined, but young of year and sub-adults have faired pretty well. Looking at numbers from five streams last week indicated zero to minor (<8%) changes in abundance numbers of brook and rainbow trout. Again, not sure yet on lower Little River and the other big streams, but we'll see. We have done some qualitative sampling around park HQ and over on Slickrock with Jim Habera [TWRA fisheries biologist], and we found adults in both streams. I'm afraid the results of the drought won't be felt until late fall early winter after the fish have really been stressed and mortality works though the populations. Non-game (and native!) fish have actually done very well, so it's not all bad. Big picture though is this: even if we lose 20-40% of our adult population, it's no more than what we would have seen through Mother Nature anyway. It will be interesting to see how it all plays out.
Holston River trout are doing better than most years and the park still has a bright future. Looks like we've still got plenty to look forward to!