2007 saw the worst drought on record for the Southern Appalachian region. Water levels were at historic lows throughout East Tennessee, Western North Carolina, and Great Smoky Mountains National Park. Many fly fishers wrote the park off as a disaster area and headed to other destinations. While we couldn't blame anyone, we experienced great fishing once the cool weather of autumn arrived and proved the fish were still there.
The fisheries biologists at Great Smoky Mountains National Park have been monitoring trout populations for years. They have tracked the rise and fall of trout populations through floods as well as droughts. The biologists use electroshocking techniques to accurately count trout and also obtain accurate weights and measures of fish that were captured. They shock the same runs of water every year so they are always measuring against the same available habitat. The fish are always released to the stream after data has been recorded.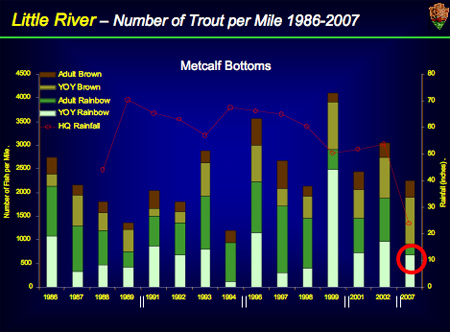 All graphs provided courtesy GSMNP Fisheries Department
Two bits of information jump out. First is that brown trout now outnumber rainbows in Little River. In fact, there are more brown trout in Little River now than there were during "good" water years. The second is that adult rainbow trout numbers are certainly down after the drought. However, the large populations of young trout in the river should keep populations in good shape.
Trout populations were at a low after the catastrophic flood of 1994, lower than they are now. Looking at population figures for 1995 and 1996 show a remarkable rebound, something that should easily occur with the numbers of fish we have now.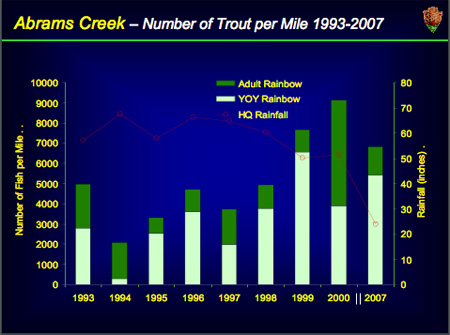 The information from Abrams Creek is striking, if not even more encouraging. Rainbow trout populations in Abrams Creek remained relatively high and much higher than the the numbers seen after the flood of 1994.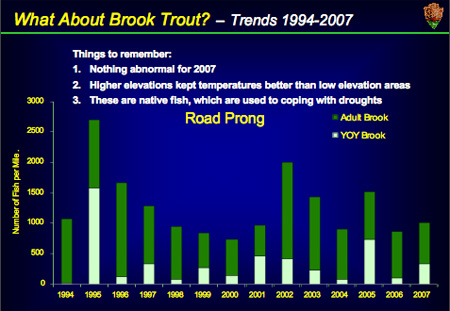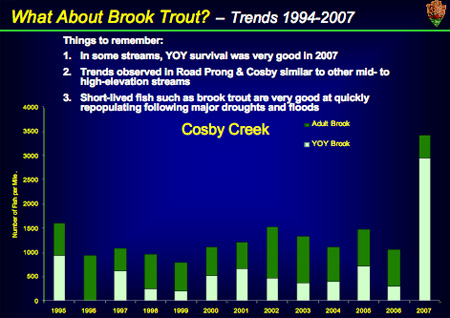 Brook trout provide the best reasons for optimism. Looking at graphs of population numbers from Road Prong and Cosby Creek, one wouldn't realize that there was an awful drought. Brookie populations in Road Prong are excellent and at a high in Cosby Creek. This is mostly because water temperatures remained low in these streams. Brookies are also native to the Smokies and are perhaps better suited to deal with these conditions.
The fisheries biologists have five points that they really wanted to get across.
Rainbow trout numbers are down 25 – 75% with the greatest impact on adult fish.
Brown and brook trout populations are about normal to above average.
The greatest drought impacts on trout populations occurred below 2000′ elevation.
Native non-gamefish (sculpins, dace, shiners, etc.) populations are also normal to above average.
Trout populations rebound quickly with opportunity.