It's been a busy week of guiding and great fly fishing here in East Tennessee. We've been getting around quite a bit. We've been on several large streams in the Smokies, back country streams, floating the Holston, and even floated lower Little River for smallmouth bass. The weather has been pretty warm but we're still in waders as water temperatures have been in the mid to high 50's where we've been fishing.
Water levels started getting a little low for this early in the season and dry fly fishing dropped off noticeably. Our best fishing came from fishing nymphs. Pat's Nymphs, Prince Nymphs, Beadhead Pheasant Tails, and a few other patterns I've been experimenting with have worked well. Fishing a #16 nymph under a #14 Stimulator has worked well throughout the park.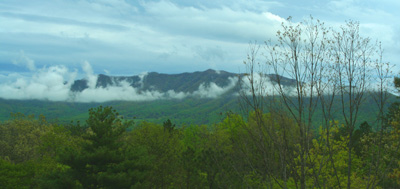 View of Rich Mountain from the Peaceful Side of the Smokies
We've been getting some good rain and the rivers and streams have risen noticeably without getting blown out. This is great! I fished Wendy Williams and Bill Boyd on Little River yesterday. Real diehards, they fished through a torrential downpour. We stuck with nymphs all day long. After the rain let up a little bit the river took on a slight amount of color and the fishing was incredible. Every run yielded multiple strikes on nymph patterns. Bill got a 12″ brown on a caddis larva he ties and another brown that might have gone 14″ on a #10 Prince Nymph I tied. Wendy kept the fish biting all day long too.
The Holston River has been on fire with caddis hatching in the afternoon. We've been catching good numbers of nice rainbows on small nymphs fished deep in the morning. By lunch time the bugs are hatching and we're catching plenty of fish on #18 caddis patterns. We've actually had a hard time keeping track of all the fish we're hooking! This should last for at least a month, perhaps a bit longer.
We've even done a little smallmouth fishing on lower Little River. The water is still a little cool for the action to be great, but we got several nice smallies on poppers along with several redeyes and some bluegills as well. It won't be long before the big bass on the Holston will take a popper and we can't wait.