We're pretty dizzy from day after day of guiding and the evening conversation usually comes around to "Where am I going tomorrow?" We have to check the calendar remember who to meet and where we're scheduled to go fishing.
Over the past few weeks we've been all over the place, from deep in the backcountry of the Smoky Mountains, to the Holston River tailwater, to the smallmouth bass infested Pigeon River. Ian did a quick bit of figuring and found that in the last 7 days he's put in around 25 miles in the drift boat and about 14 miles on Smoky Mountain trails.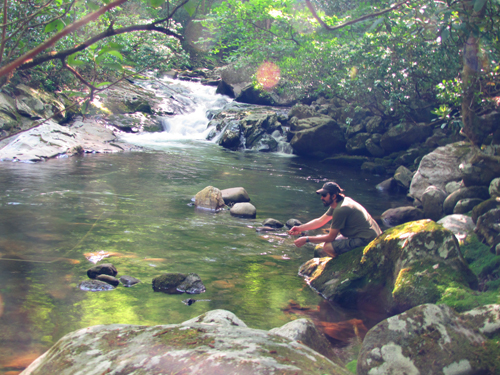 Deep in the backcountry on the North Carolina side of the Smoky Mountains
You're probably thinking, "OK, so how's the fishing?" Here we go!
Smokies
We've received a number of emails from people concerned that water levels may be too high to fish because of recent weather. Most people have been surprised to learn that streams are a touch low. Nothing approaching a crisis, but a little bit low. Most major rains in the past couple of weeks have stayed north and west of the Smokies.
It is thunderstorm season so come prepared. Afternoon showers are a daily event in May, June, and July. Dropper rigs with small beadheads fished under Parachutes, Stimulators, and Thunderheads are perfect but you might just go with the dry fly by mid-day. Don't forget terrestrial season is upon us and inchworms are abundant on many streams.
Tailwaters
It's been a rough spring for tailwater fly fishers in East Tennessee with little opportunity for wading. The Clinch is just now starting to come around to something like consistent. The last two weekends have seen a few hours of fishable water each day, but conditions seem to be getting better. The Hiwassee has had the best water levels day in and out for those who wade.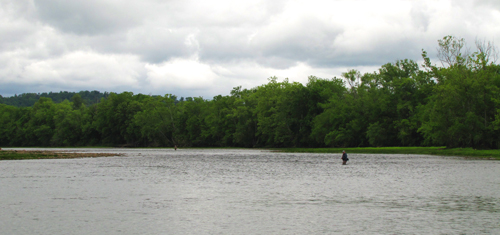 A wading fly fisher works one of many long riffles on the Holston River
With the Clinch essentially out of commission we've seen a big influx of anglers on the Holston this spring and have adjusted our floats to avoid areas most popular with waders. The caddis hatch has been good this year, but we can't shake the idea that the somewhat erratic generation schedules have kept things a little less predictable than usual. We see phenomenal hatches one day, then relatively few bugs the next and have to rely on nymphs.
Smallmouth Bass
Many fly fishers in East Tennessee tend to ignore the smallies, but we love 'em! The Pigeon, Holston, and Little Rivers all provide excellent opportunities for wading or floating anglers. Topwater action hasn't really come on strong yet, but be assured that poppers will work quite well. The cool, wet weather we've experienced has kept us on streamers like Clouser Minnows. Big water on the Pigeon has fished the best with a sink tip fly line.