We bid a farewell to our group on the Henry's Fork in Idaho last Friday and headed northeast through Yellowstone National Park into Montana for a little bit of family time. We fished the park and are staying about half way between Livingston and Gardiner, Montana along the Yellowstone River.
Before we go on, we'd like to voice a quick shout out and "Get Well Soon" to Rich Paini. He and John Stiehl are new friends of ours at TroutHunter in Island Park, Idaho. Both were involved in a grizzly bear attack while bow hunting for elk the morning after our departure. Fortunately Rich is doing well and John helped keep damage to a minimum. You can read the details on that here. It's been in the national news and came as quite a shock to us.
Now on to the fun stuff!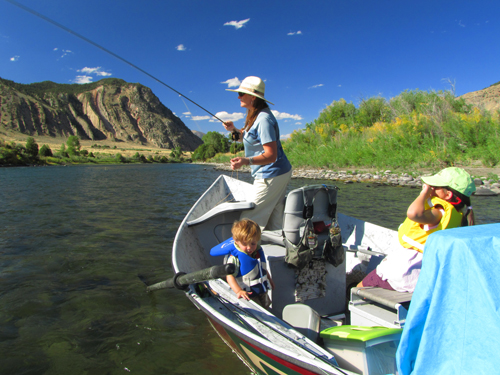 Our kids always enjoy floating in the drift boat and it's easier than carrying 2 year old Boone in the backpack! Notice the little blanket tent we drape over the back seat and brace for the kids to get out of the sun.
The weather is unusually warm. We've been wet wading the past couple of days after simmering in our own juices in waders. Hopper fishing on the Yellowstone is still very good!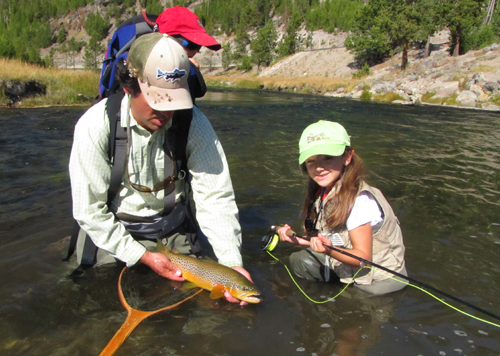 Our daughter Willow helped me land this hefty brown in the park a few days back while Boone witnessed the whole thing from the backpack.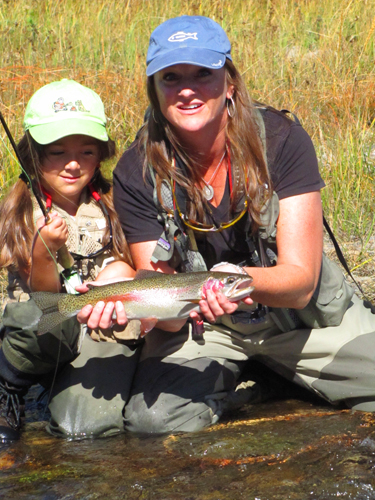 Willow netted this nice rainbow trout for Charity