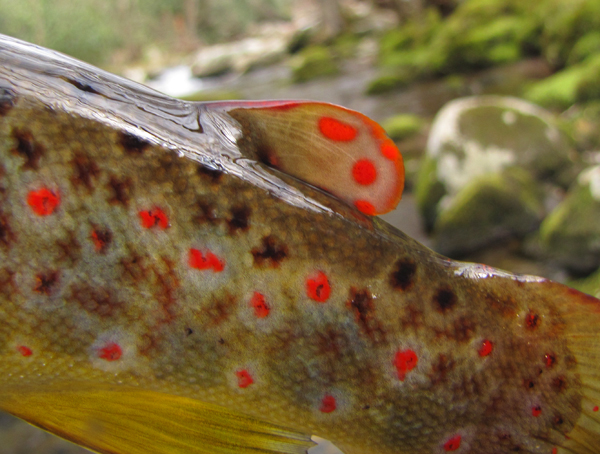 Water levels in the Smokies have receded to quite fishable levels after they spike up pretty high late last week, but we have some more rain on the way today. So far it looks like the system is breaking up and should only bring us light and scattered rain showers.
As fly fishing guides we're a lot like farmers. High water or the arrival of a strong front can keep us off the river and out of work. That leads us to check the weather report several times a day. I habitually stay abreast of NOAA flood and drought forecasts, and the primary reason I got a smart phone a few years back was so I could have current weather radar on my drift boat. Spend a few hours rowing a drift boat downriver while lightning is flashing overhead and you'll quickly understand the reasoning.
Right now our tailwaters are still running high, but we're on the cusp of that time of year when TVA starts to allow reservoir levels to rise. This will certainly mean reduced flows and better opportunities for fishing. It's doubtful we'll see minimum flows on the Clinch River for long periods since inflows are still very high, but you should start keeping an eye on TVA's generation schedules. The Hiwassee, South Holston, Watauga, and Holston should all have flows to allow at least some wading. As always, those with drift boats have far more latitude. The Hiwassee and South Holston have both been fishable for anyone with a boat.
UPDATE: Looks like Norris dam will stop spilling water by Wednesday and inflows have fallen off dramatically. Let's keep our fingers crossed we get some more moderate flows by the weekend!
UPDATE: As of Tuesday morning, March 12, TVA's flow forecast has changed and it looks like Norris Dam will continue spilling through at least the end of the week.