It's late November, the end of our guide season here in East Tennessee and the Smoky Mountains. As we always do at this time of year, we savor every nice day, trying to fit in some good fishing before the cold weather sets in to only leave us with a few decent hours a day to spend outside.
You can't help but be reflective when you know you just did one of the last guided trips of the year. Reflexively I try to remember the best day of the year, biggest fish, worst weather, and every other superlative. That got me thinking and I immediately looked down at my fingers and did some counting as I ticked off the years. We just finished our tenth season as an independent guide service! Charity and I both guided for others before we started R&R Fly Fishing, but late in 2002 decided to go out on our own.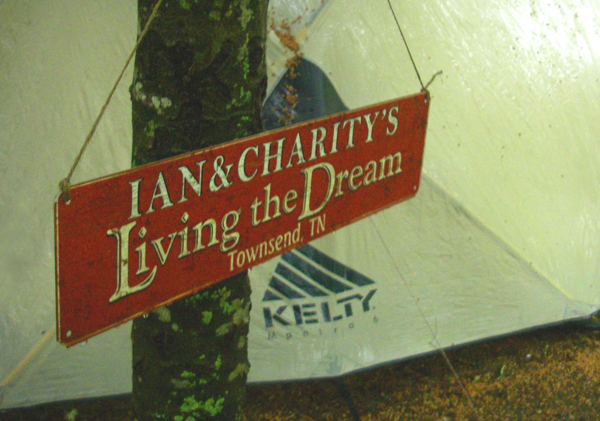 That sums it up nicely
By the spring of 2003 we had acquired all the legal necessities and I think our first trip as R&R Fly Fishing hit the river in late February or early March that year. Since that first trip we've logged innumerable days on the water with more anglers than we can remember. It's probably not the best way to distill the past ten years, but I've tried to reduce it to some numbers and figures so casual observers of what we do can grasp what we do.
R&R Fly Fishing's total guide days on the water: Over 3000
Flies tied on: In excess of 50,000
Tippet: Probably between 3 -5 miles based on typical annual use
Books written: 4 since the inception of R&R Fly Fishing, 1 previous to that
Pairs of worn out wading boots: A little more than 30 just between Ian & Charity. Add in rental/loaner pairs and it gets scary!
Pairs of leaky waders: At least 25 between us. It's a real testament to a pair of waders if they last 12 months. And that's counting patches and about 5 months of wet wading without them.
Our favorite quicky wader patch: Duct tape
Repair most people don't think of: 1 set of replaced worn out wheel bearings on a drift boat trailer
Fishing reports/blog posts: 605 in WordPress plus an undetermined number on our previous website format
Time spent on Hazel Creek: Approximately 6 weeks doing our Hazel Creek camps. We've had several groups over the years who engaged us for trips other than our usual camps.
Drift boats: We're on our 3rd Hyde
Strokes of the oars: A few million…
Weight of the anchor: 35 pounds
Number of times during a typical float the anchor goes down, then gets pulled back up: 30 – 50 times
Kids born: 2, one girl and one boy
Truest sign of dedication to the job: Charity kept a breast pump in her fishing bag after the birth of each of the kids.
Cars gone through: 3 Jeep Cherokees and 2 Nissan X-Terras
New gray hairs: About 10 a month and accelerating quickly
Ian's least favorite question: "What's your real job?"
Charity's least favorite question: "You know what you're doing?" (Always asked by older men in felt hats and flannel shirts first thing in the morning.)
Number of times a customer has seen backing on a trout: 3, Once on a streamer, once on a nymph, and once on a dry fly (Hell yes!!)
Hosted trips outside of the Smokies: 2 to Belize and 8 to Yellowstone Country
Absolute coolest take by a fish: A carp was nibbling on a popper's rubber legs when a smallmouth bass came up from under its chin and took it away
Number of times vehicle stuck on a steep ass river bank "boat ramp": Twice. Once on the Holston River in Tennessee and once on the South Fork of the Snake in Idaho
Noteworthy injuries to Ian in the course of guiding: Cracked ribs, dislocated thumb,  and a brutally bruised knee cap from a swinging anchor.
Noteworthy injuries to Charity in the course of guiding: Goose egg bruise on the shin from a slick boulder on the West Prong of the Little Pigeon and numerous lacerations from falling off a stone retaining wall on Little River when she jumped away from a striking water snake.
Anglers who fell out of the boat: None, although a few have tried.
Number of close lightning strikes while huddled up on a river bank waiting out thunderstorms: In excess of 50
Primary reason for owning a smart phone: Real time weather radar
Days on the water with suicidal fish: Not enough
Days when the fish were tough: Too many (A guide is almost never satisfied. There's always at least one fish who's just "unreasonable" on even good days.)
Number of times someone in the drift boat has asked "So does the river flow back around to where we put in?": 6, and no, I'm not shitting you.
Total sum paid for shuttles to move the car and boat trailer: Far more than the kids' college fund
Untangled wads of monofilament, flies, strike indicator, and split shot: Let me top off my drink….