With school starting up next week we looked up from work to see we hadn't taken a family camping trip this summer. Most of the summer vacationers have already started to thin out here in the Smokies and it seems that many might have simply given up on account of all the rainy days, so we had a few consecutive days in a row to leave town.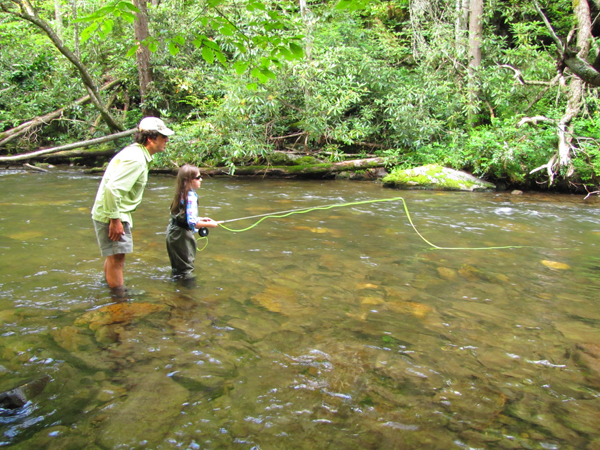 Our camping trips aren't exactly the binge fishing and drinking events some folks imagine when guides get time for themselves. We get the chance to do some fishing for ourselves, but keeping up with an 8 year old and 4 year old doesn't lend itself to a 14 hour fishing day. Our kids are pretty accustomed to days on the water and even look forward to it, but the key for us is not to over do it.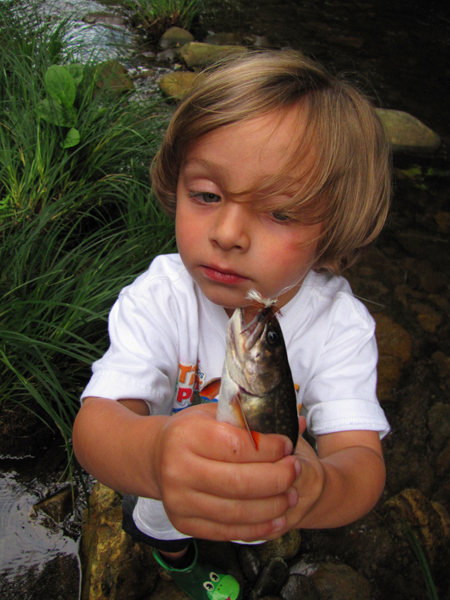 Cataloochee is always a great choice for us to take a long weekend trip. Since it's about two hours away it's not a place we go to all that often. We have so much water within an hour or less we just don't find ourselves going to Cataloochee much more than once a year so it doesn't feel like "the office" to us, plus the abundant wildlife in the valley is about as good as you'll find in the Smokies.
The Fishing
Charity and I would have to say this was some of the best fishing we've seen this season. Of course we came off a couple of guide days on Little River last week that were pretty damn good even though the water was a bit high. We found the water levels in Cataloochee to be perfect. Water temperatures were impressive for the end of July, in the high 50's to low 60's depending on the location and time of day. It was absolutely perfect camping weather with wake up temperatures around 49 degrees and afternoon highs in the mid 70's with brilliant sunshine. Honestly, it felt like late September or early October.
Fly selection was nothing earth shattering. Just the basics, although we did notice a number of fish up rising on small Tricos early. As the day progressed it was nothing to pick up fish on all the regular patterns, but dry fly fishing did slow down in the afternoon on the largest water. Nymphs continued to fool fish though. Charity picked off some fish in flat water with an ant too.
Cataloochee Creek fished very well, but the action was much faster on the tributary streams we fished. Both Palmer Creek and Rough Fork almost reached the point of ridiculous as the fish were exceptionally eager. We didn't land any exceptional fish but there was one missed strike and another fish that broke the tippet on a strike on a Tellico Nymph. Both of those left us wishing we had a better look, but that's the way it goes. Plus it was just fun to watch the kids catch crawdads and simply enjoy the perfect weather.