We got some rain in the Smokies yesterday and some more today. There is a decent chance of rain tomorrow as well. Unfortunately showers have been relatively short and remain localized so some streams have received more than others. Little River had a mild surge today with some color kicked up, but it fell back and cleared rather quickly. Radar seemed to show more rain in the Greenbrier section of the Smokies.
Yesterday I did some more smallmouth fishing with Tim Doyle. We floated a lower section of the Holston River and caught fish on poppers and streamers. The Holston is a tailwater and this stretch of smallmouth water is essentially drought proof because of releases from Cherokee Dam and water temperatures are perfect for smallies.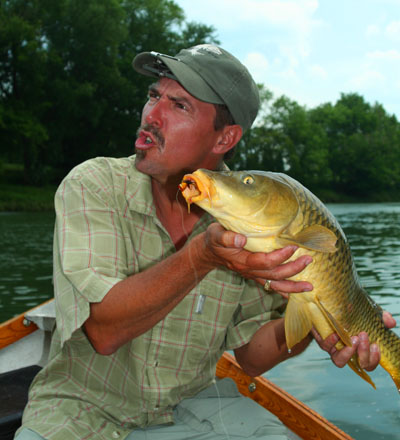 I don't think the colagen injections were a good idea….
While the bass hit with a vengeance in the riffles, one of the most exciting moments came while Tim was casting poppers in quiet water along the bank. I spotted a carp rising quietly and pointed it out to Tim who dropped the popper with precision. I'm guessing the carp took the popper to be a beetle or something of the sort falling from the trees above because it erupted on the fly the second it hit the water.
We've got a busy schedule of guiding coming up over the next few days so we'll keep you posted on the conditions.