There are some new regulations that have taken effect and should help provide better fishing in the future. These regulations apply to trout in the Clinch River tailwater below Norris Dam and smallmouth bass in several East Tennessee rivers.
Perhaps the most promising regulation is the new catch and release slot limit on the Clinch. The new rule states that all trout 14″- 20″ must be released. This applies from Norris Dam all the way downstream to the Highway 61 bridge in Clinton. There are no restrictions on tackle that may be used. There is also a creel limit of 7 trout with only one over 20″.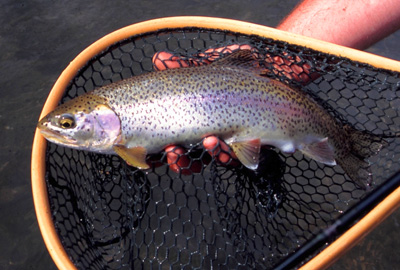 Chunky Clinch River rainbow trout like this one are now protected.
We're hoping this regulation will bring back the Clinch River we all remember from the 1990's. In the early 1990's trout in the 14″ range were considered average and 18″- 20″ fish were relatively common. I can personally remember several rainbows in the 22″ range that were caught on midge patterns. One fly fisher we knew caught a 7 pound rainbow close to the dam on a #18 midge pupa. In recent years we've seen a decline in the number of large trout. Most rainbows we've seen over the past few years have been under 12″. The Clinch still supports good numbers of trophy brown trout, but these fish are far less likely to eat flies, particularly small patterns, than rainbows. The glory days may be back soon.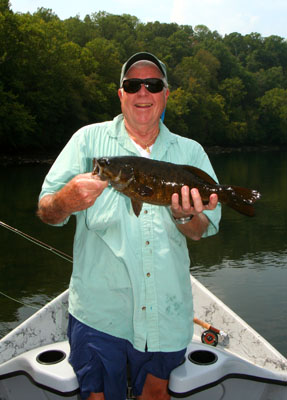 Restrictive fishing regulations on East Tennessee's smallmouth bass should keep fish like this from becoming rare.

Smallmouth bass will also benefit from a similar regulation that has been implemented on several productive East Tennessee Rivers. The French Broad, Nolichucky, and Holston Rivers all have a catch and release slot limit that protects all bass between 13″- 17″. This will ensure quality fish may continue to be caught on these rivers. We frequently fish the Holston River for smallmouth and catch good numbers of fish 13″ and larger so it's good to know these fish are now protected.
The Pigeon River and Little Pigeon Rivers have had a 20″ size limit for several years so it's nice to see the spread of regulations that protect our fisheries resources.