Spring fever is catching here in the Smoky Mountains and across Tennessee. Fly fishers have begun to disregard the weather report and just go fishing! We've got it about as bad as anyone.
This is the time of year when we're consumed with the mundane details of operating a guide service. We've been tending to details with our guide permits and insurance policies. Nothing so glorious as hooking a nice fish on a dry fly with a tough mend, but necessary nonetheless.
We came home from the Charlotte Fly Fishing Show an promptly got sick. The whole family wrestled with that for about a week and we've been trying to catch up. By the way, we haven't posted anything about the show so let me take this opportunity to thank everyone who came out just to see Charity and me. Our seminars were well attended as were our casting demos.
The best part about these shows is the chance to mingle with other anglers and learn new things. Have your ever seen something so simple, so obvious you think, "Why didn't I think of that?" We had one of those moments when we saw a new pattern for the Blue Wing Olive.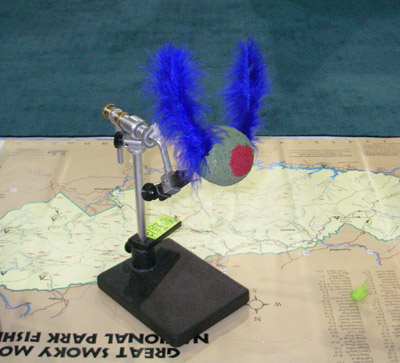 Genius! Absolute genius! A perfect Blue Wing Olive.
Now let's talk some fishing. The weather hasn't exactly been conducive to great fishing, but we've been making the most of it. Last week I took Peter Petruzzi fishing on what was probably the best day of the month. The weather was great and the fishing wasn't too shabby. Peter's a streamer nut, but the fish were a little sluggish for that to work real well. He did best with nymphs fished deep, but still managed to pull up some nice fish on the streamer.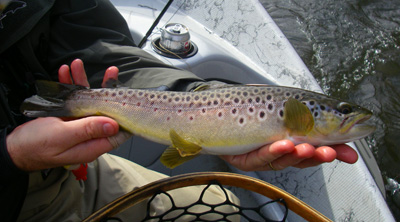 This beauty smacked the Hooey out of a White Zuddler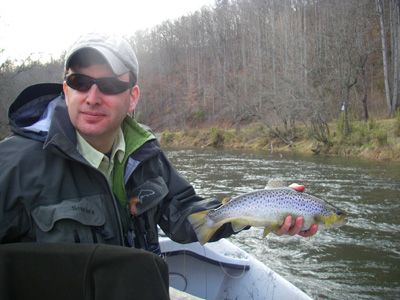 Peter Petruzzi and the smug look that comes after catching several nice brown trout in an afternoon.
Yesterday we took a family outing on the Holston River. The weather was supposed be clear but cool. In reality it was overcast, breezy, and cold. We didn't care. It was just nice to be out of the house and there's a certain warm feeling you get when trout are rising all around the drift boat. Midges were thick on the water and any small pupa pattern fit the bill.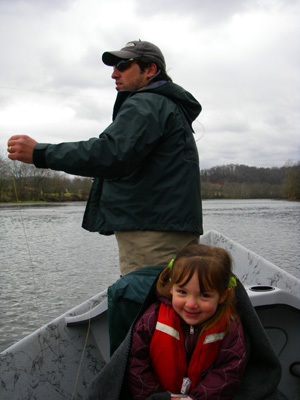 Our daughter Willow didn't fish, but she was thrilled to be on the river too!
We haven't been fishing much in the Smokies, but we have been frequenting the water. It's been cold, but we're getting closer and closer to those great spring hatches. Looking back on journals from previous seasons we can't help but notice fishing some hatches on February 27 and 28. I'm breaking out into a sweat just thinking about it! Unfortunately the weather forecast for this week has plenty of cold weather with a good chance of snow in the mountains. Probably not gonna happen this week, but we're hoping the bugs start by next week. In any case, it won't be long!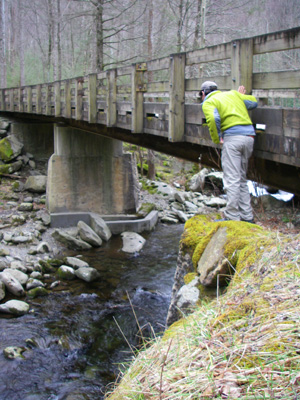 No bugs yet, but we're keeping a close eye on the situation