It was only 2 days ago that I was floating down the Holston River in my drift boat with Stan Smartt in the back seat and Tommy Vaughn in the front seat. It was sunny and 60 degrees. Tommy was wearing sandals and I was without a jacket, shirt sleeves rolled up, and pointing rising trout.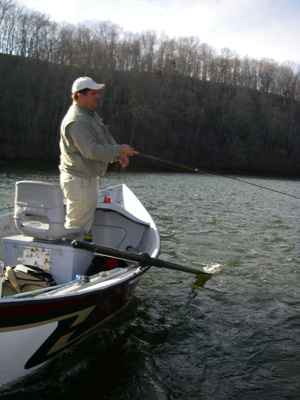 A beautiful early spring day on the river
Fishing started slow but picked up by mid afternoon and came to climatic thick hatch of midges that had trout rising in every direction. It's hard to say just how many trout the boys landed, but it's safe to say they lost count. Most of the fish were in the 10-12″ range and solidly built, but there were a few that cracked the 15″ mark. The guys were absolutely giddy on the ride home and spring fever barely describes the mood.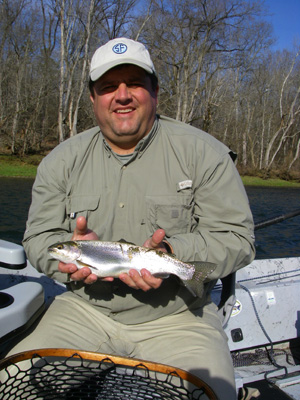 A warm sunny day and rising trout. Does it get any better?
It's barely 36 hours later and I'm watching snow pile up over 4″ outside my window here in Townsend. The snow is over a foot deep at Newfound Gap and still falling. That's good for our water levels but not so much for the hatch outlook. We were hoping for the first few bugs to start coming off in the next few days but that will almost surely be postponed for a little longer.
Temperatures are supposed to be in the high 50's or even 60 by the weekend, but snow melt will keep the water temps pretty chilly for a day or so longer than that. Good fishing is just around the corner and we can't wait!