We're still locked in a heat wave here in East Tennessee but thankfully we can always find some relief in the Smokies. Temperatures rarely exceed 80 degrees along the crest of the mountains and water temperatures in many high elevation brook trout streams only occasionally rise above 60 degrees.
Even though it's only August we're beginning to see the first signs of autumn. A few buckeyes, acorns, and black walnuts are starting to fall to the ground. It won't be long before black bears begin to feast on the bounty before their long winter hibernation.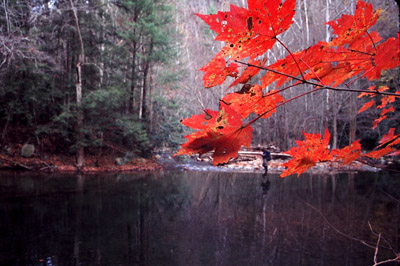 Fall is one of our favorite times to fish in the greater Smoky Mountain region. We see some of the best weather of the year. October is one of the driest months of the year and temperatures are very comfortable with cool nights and warm days.
Smokies
October and early November have some of the best dry fly fishing of the season. We use small dry flies to imitate Blue Wing Olives that hatch in the afternoons. Small beadhead nymphs work quite well in the mornings before the sun gets on the water.
It's not a sure thing by any means, but we see some of the largest brown trout of the year in late October and November in the Smokies. Large browns move around as they prepare to spawn and often feed in the middle of the day.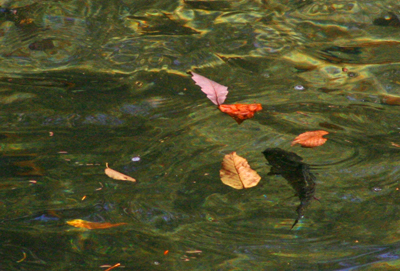 A rainbow trout scans the surface through drifting autumn leaves
Tailwaters
We're still waiting to see what kind of fall we'll have on the tailwaters. TVA drains area reservoirs in the autumn and that means plenty of generation. That's bad news for wading anglers, but can be ideal for floats. The Clinch River will often see weeks of flows around 3500 cubic feet per second. That's perfect for floats. Nymphing is always good at that flow and trout will often rise to midges or micro caddis in the fall. Those who like to strip streamers find these flows perfect.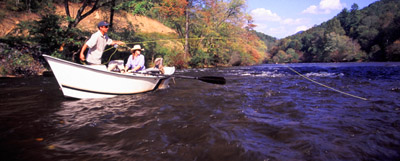 Some years we have a wet fall season and that leads to high flows on the Clinch closer to 7000 cfs or higher. This is too much water for a successful float on the Clinch, but we usually see ideal flows on the Tuckaseegee if this is the case. The Tuck is a productive tailwater fishery in Western North Carolina and we float it in the vicinity of Dillsboro.
The Tuckaseegee isn't much of a dry fly fishery, but we do quite well with nymphs and streamer fishing can be spectacular. Every year we have anglers land large rainbow, brown, and even brook trout there.
Smallmouth Bass
October can be a glorious month for smallmouth bass floats. Water temperatures have cooled and the fish feed knowing that winter isn't too far around the corner. Popper fishing is good on sunny days and bass will always take Clouser Minnows and other streamers. Fishing for smallies continues as long as temperatures are mild, but falls off when the weather cools down in November.